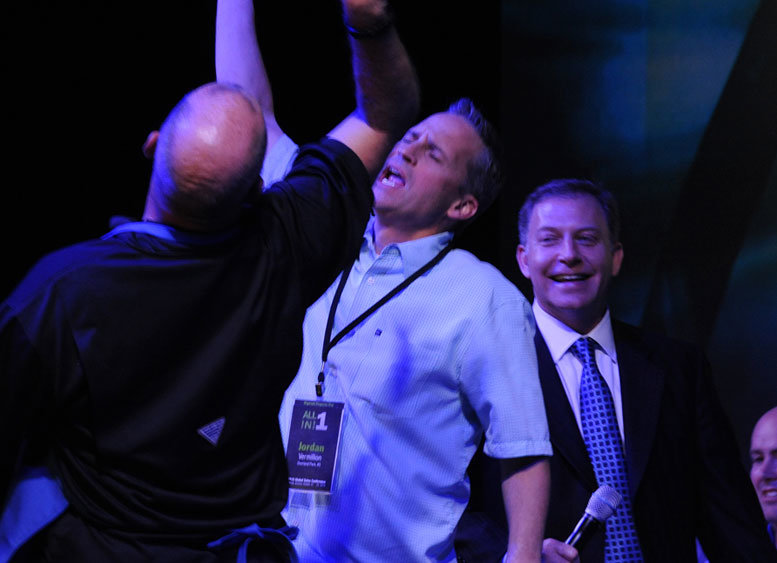 Corporate Entertainment that Becomes a Transformational Experience
William Sax – Corporate Event Producer
If you're looking for corporate entertainment that lasts long after your event is over, look no further. Ricky Kalmon is a corporate entertainer who combines excitement and entertainment with a transformational message that will exceed your expectations on every level. A Ricky Kalmon show is more than entertainment, it's an experience.
The most requested stage hypnotist in the country, Kalmon's corporate entertainment show combines good taste with energy and laughter, while astounding audiences worldwide with his Subconscious Makeover™ techniques that will take the mind and your event to unprecedented levels. It's a unique experience that will turn your corporate event into the ultimate in audience participation. Never boring, never bland, no two shows are alike.
Ricky Kalmon provides corporate entertainment and a keynote speaking package all in one, adapting each to your event's theme or message. Leaving your audience on the edge of their seats, he breaks the ice with his entertainment show, and follows it with a transformational keynote that will impact your audience long after your event is over. By amazing audiences with the power of the subconscious mind, he provides transformation tools they can use in all of their personal and professional goals. They'll come intrigued and leave convinced that when you change the way they think, they can change their world.
Corporate entertainer and keynote speaker, Kalmon's phenomenal corporate entertainment show can be enhanced by his motivational keynote called "Unlock the Power Within"™, which is always customized and designed specifically for your group. Following the best in corporate entertainment, this motivational empowerment program inspires and offer compelling, applicable tools for personal and professional development. Ricky Kalmon's high-energy and exciting show has redefined corporate entertainment. If you want to provide the ultimate in corporate entertainment with a transformational experience your audience will never forget, look for no further. Book Ricky Kalmon and turn your corporate event into a life-changing experience.
Comments are closed.