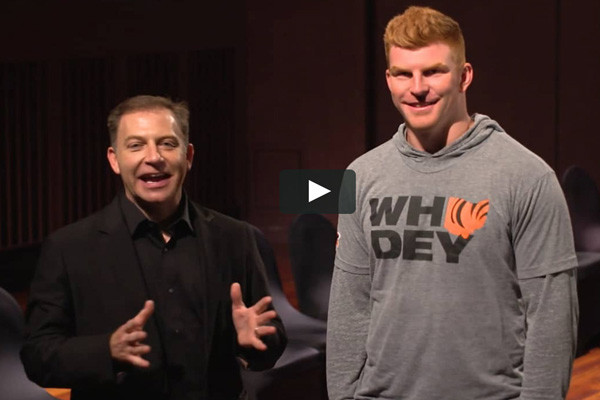 Hypnotist Ricky Kalmon on ESPN SUNDAY NFL COUNTDOWN
During training camp, celebrity hypnotist and motivational speaker, Ricky Kalmon, visited the Cincinnati Bengals and revealed to the team how the subconscious mind can be the greatest tool in achieving focus and performance. See what happens when the defending AFC North Champs are under hypnosis.
Check out this sneak peek video: http://www.espn.com/video/clip?id=17589599
Ricky Kalmon brings a high-energy, enriching and empowering experience to corporate events around the world. He delivers corporate entertainment and motivational programs that will change the way you live, work, and think. Kalmon has performed for college and professional sports teams, Fortune 500 companies, and audiences worldwide. His comedy show is always tasteful, always hilarious, but never predictable–no two shows are alike. The most requested stage hypnotist in the country, Kalmon redefines the art of hypnosis. Kalmon's motivational programs are inspirational and offer compelling, applicable tools anyone can use in personal and professional development. By "Unlocking the Power Within™", he reveals how the subconscious mind can be the greatest tool in achieving new heights in reducing stress and increasing productivity and success.
For over two decades, Kalmon's hypnosis show has amazed audiences. His program opens with corporate entertainment that leads into a wellness program that will exceed your expectations on every level. Ricky Kalmon empowers his audience to take control of their lives and teaches them how to change bad habits to good habits and become proactive in their preventive health and wellness. Kalmon's motto is "Change the way you think, and you can change your world."™ His motivational keynote program will offer take-home value to your team. When it comes to personal and professional empowerment, Ricky Kalmon's programs reduce stress and create success! Ricky Kalmon customizes every program to the needs and interest of each client's event.
For more information on how to hire Ricky Kalmon for a corporate event, meeting or conference, contact our office 770-442-8820.
Comments are closed.