Bob Casciola Former president of the National Football Foundation and College Hall of Fame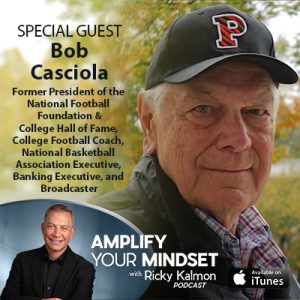 Bob Casciola is the former president of the National Football Foundation and College Hall of Fame. He is the author of 1st and Forever: Making the Case for the Future of Football. As the NFF President, he oversaw 119 chapters with 13,000 members throughout the country, The College Football Hall of Fame in South Bend, Indiana and The Foundation's many educational and football related programs.

Selected All-Ivy League at Princeton University, where he played for Hall of Fame coaches Charlie Caldwell and Dick Colman, Casciola spent 20 years in the college coaching ranks as an assistant coach at his alma mater and Dartmouth College, under head coach and Hall of Famer Bob Blackman. He became head coach at the University of Connecticut in 1971, before returning to Princeton to lead the Tigers for five seasons.

In 1978, he joined First Fidelity Bank of New Jersey and rose to senior vice president, leaving in 1987 to become executive vice president and chief operating officer of the New Jersey Nets of the National Basketball Association, a position he held for five years.
Since his active coaching days, Casciola has remained active in sports circles in a wide variety of roles. For fourteen years, he coordinated the coaching at the nationally known Quarterback-Receiver Camp, was a member of the selection committee of the Garden State Bowl and served on the Executive Committee of the Kickoff Classic.
In 1981, Casciola became color analyst for Princeton football. Two years later, he was chosen to do color commentary for the New Jersey Generals of the USFL and was cited as a member of the best sports reporting team in New York State. In the fall of 1984, he became the "voice" of Rutgers Football on both radio and television on the New Jersey Network covering Rutgers, Princeton and the state colleges in New Jersey.
During the 1985 and 1986 seasons, Casciola served as color analyst for the Ivy League Game of the Week on National Public Television. In addition, his broadcasting career has included color commentary for the Mizlou Television Network, working the Independence Bowl in 1985, 1986 and 1987; the Hall of Fame Bowl in 1986 and the Senior Bowl in 1988. From the fall of 1987 through 1990, Casciola was color commentator for the Great American Independent Football broadcasts on national television that included the following schools: Boston College, Syracuse, Pittsburgh, West Virginia, Notre Dame, Temple, Rutgers, Army and Navy.
For his efforts with New Jersey high school football, Casciola received the Coaches Association Honor Award in 1981, and on June 5, 1984, was cited for his contribution to high school sports by the Delaware Valley Chapter of The National Football Foundation and College Hall of Fame and received the Distinguished American Award. He was also honored by the New Jersey Sports and Exposition Authority for his efforts on behalf of athletics in New Jersey and was named "Person of the Year" by the New Jersey Tournament of Champions. For his outstanding and significant achievements in college football, the Downtown Athletic Club honored him with a Heisman Scholarship Award in 1994.
Ricky Kalmon – Mindset Expert, Motivational Keynote Speaker, Author, & Celebrity Hypnotist
Ricky Kalmon is a mindset expert, motivational speaker, celebrity hypnotist, and author of the book Leverage Your Mindset – Overcome Limiting Beliefs and Amplify Your Life. He is also the creator and developer of the mindfulness app titled RICKY KALMON.  As an international speaker and consultant, Kalmon is a Visionary Architect in personal growth and potential. Kalmon reveals how our mindset can be the greatest tool in achieving new heights, reducing stress, and increasing productivity and potential. He has made numerous special guest appearances on ESPN, Hallmark Channel, Fox, FX, TV Guide, and HLN/CNN.  He offers top corporate entertainment with a take-home message.  Kalmon's uniqueness comes from the way he combines music, audience participation, and comedy to create an unforgettable show that is unmatched by anyone, anywhere. It's a show that will keep you on the edge of your seat and take you on a Vacation of the Mind! Some of his corporate clients are AT&T, Disney, Dell, Boeing, GE, Microsoft, and Pepsi.  Kalmon is also regularly invited to perform for professional sports teams, such as the USC Football Team, Cincinnati Bengals, Arizona Diamondbacks, Anaheim Angels, St. Louis Cardinals and New York Yankees.
Mindfulness Motivational Keynote Speaker Ricky Kalmon delivers corporate motivational keynote programs and virtual coaching that will change the way you live, work, and think.  His mindset motivational programs are inspirational and offer compelling, applicable tools anyone can use in personal and professional development. By "Unlocking the Power Within™," he reveals how our mindset can be the greatest tool in achieving new heights, reducing stress, increasing productivity and success. Kalmon will show you how to enhance your mindset to repel doubt and ignite your positive intentions. Ricky has broadened the scope of personal self-discovery and has taught thousands of people how to empower themselves and enrich their lives.  Hire Mindset Motivational Keynote Speaker Ricky Kalmon your next virtual sales meeting, conference, and corporate leadership training program.
Benefits of Ricky Kalmon's programs include:
Stress Reduction / Mindfulness
Overcoming Challenges / Adapting to Change
Accountability and Potential
Confidence / Attitude and Belief
Purpose and Prosperity
Comments are closed.