Dr. Allen is the Medical Director of Rushford, Chief of Psychiatry at Midstate Medical Center, and Vice President of Addiction Services for the Behavioral Health Network of Hartford Healthcare.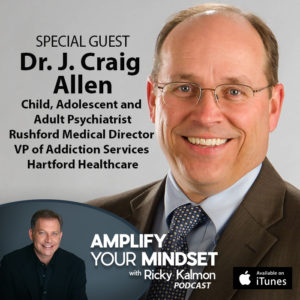 Dr. Allen chairs the Treatment committee for Connecticut's Alcohol and Drug Policy Council, is a member of the state Advisory board for the Department of Mental Health and Addiction Services, is on the Connecticut State Medical Society's Addiction Medicine Committee and Opioid Task Force and was guest editor for the May 2019 special edition of Connecticut Medicine "Hope in the Battle Against the Opioid Overdose Crisis". Dr. Allen is also the current President of the Connecticut Chapter of the American Society of Addiction Medicine and a founding member of the National Council for Behavioral Health's Medical Director's Institute.
Dr. Allen has held faculty appointments at Harvard and Yale Medical schools and is currently Assistant Professor of Psychiatry, University of Connecticut School of Medicine and Associate Professor of Psychiatry at Quinnipiac University's, Frank Netter School of Medicine. Dr. Allen trains Addiction Medicine fellows in Rushford's ACGME accredited Addiction Medicine fellowship program, and Child and Adolescent Psychiatry Fellows and Residents from the Institute of Living.
Dr. Allen lectures and advocates locally and nationally for prevention, screening, early intervention and treatment access for Substance use and other Psychiatric disorders throughout the lifespan.
Dr. Allen is board certified in Child, Adolescent and Adult Psychiatry and in Addiction Medicine.
Ricky Kalmon – Mindset Expert, Motivational Keynote Speaker & Celebrity Hypnotist
Ricky Kalmon has amazed audiences around the world. Kalmon empowers his audience with simple, but powerful techniques to boost confidence and belief toward their goals and to exceed their own personal and professional expectations.  He has made numerous special guest appearances on ESPN, Hallmark Channel, Fox, FX, TV Guide, and HLN/CNN.  He offers top corporate entertainment with a take-home message.  Kalmon's uniqueness comes from the way he combines music, audience participation, and comedy to create an unforgettable show that is unmatched by anyone, anywhere. It's a show that will keep you on the edge of your seat and take you on a Vacation of the Mind! Some of his corporate clients are AT&T, Disney, Dell, Boeing, GE, Microsoft, and Pepsi.  Kalmon is also regularly invited to perform for professional sports teams, such as the USC Football Team, Cincinnati Bengals, Arizona Diamondbacks, Anaheim Angels, St. Louis Cardinals and New York Yankees.
Mindfulness Motivational Keynote Speaker Ricky Kalmon delivers corporate motivational keynote programs and virtual coaching that will change the way you live, work, and think.  His mindset motivational programs are inspirational and offer compelling, applicable tools anyone can use in personal and professional development. By "Unlocking the Power Within™," he reveals how our mindset can be the greatest tool in achieving new heights, reducing stress, increasing productivity and success. Kalmon will show you how to enhance your mindset to repel doubt and ignite your positive intentions. Ricky has broadened the scope of personal self-discovery and has taught thousands of people how to empower themselves and enrich their lives.  Hire Mindset Motivational Keynote Speaker Ricky Kalmon your next sales meeting, conference, and corporate leadership training program.
Benefits of Ricky Kalmon's programs include:
Stress Reduction / Mindfulness
Overcoming Challenges / Adapting to Change
Accountability and Potential
Confidence / Attitude and Belief
Purpose and Prosperity
Comments are closed.