James Whittaker – International Bestselling Author, Speaker and Entrepreneur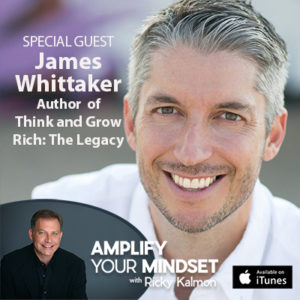 James Whittaker is co-executive producer of multimillion dollar film Think and Grow Rich: The Legacy and author of the official book accompaniment.
James Whittaker was born in Australia and currently resides in Los Angeles, California. After a successful 10-year career in financial planning where he ran a company with more than $2 billion under management, James began his own entrepreneurial journey. Today, he draws on his diverse experience to help people reach their potential in all areas of their lives.
James has been featured extensively in television, print and digital media around the world, including The Today Show, Entrepreneur, Money Magazine, and The Sydney Morning Herald. He has also appeared on 200+ podcast and radio shows, and spoken to audiences of 2,000+ people. In 2019, James launched his own show, Win the Day with James Whittaker, available on YouTube, Spotify, Apple Podcasts and more.
He is author of bestselling personal finance and motivation book The Beginner's Guide to Wealth, named book of the month by Money Magazine for March 2010. His second book Think and Grow Rich: The Legacy was released in 2018 as the official companion to the multi-million-dollar film based on Napoleon Hill's timeless classic. James is also a proud co-executive producer of the film.
Obsessed with what separates ordinary people from extraordinary achievers, James has interviewed more than 100 of the world's most revered entrepreneurs, business icons and athletes to unlock their secrets to success, including venture capitalist and television personality Barbara Corcoran, property and sales expert Grant Cardone, and skateboarder turned business mogul Rob Dyrdek.
With a diverse entrepreneurial background, James has launched successful companies and products across a range of industries including health/fitness, film, activewear, social media and publishing. He is in demand internationally as a keynote speaker and is a frequent guest in media and on podcast shows.
James' tertiary qualifications include a Bachelor of Arts (majoring in English & Writing), a Bachelor of Business Management (majoring in Marketing & Real Estate), and an Advanced Diploma of Financial Services. He also completed an MBA at Hult International Business School in Boston, Massachusetts, and during this time he was the principal organizer, MC and mentor for numerous high-profile entrepreneurship events.
Aside from business interests, James enjoys writing, reading, traveling, surfing, snow skiing and keeping fit/healthy.
He is most passionate about helping people take ownership of their financial, physical and mental health.
Official Website: http://jameswhitt.com
Think and Grow Rich: The Legacy – Film: https://members.thinkandgrowrich.shop/Movie
Ricky Kalmon – Mindset Expert, Motivational Speaker & Celebrity Hypnotist
Ricky Kalmon has amazed audiences around the world. Kalmon empowers his audience with simple, but powerful techniques to boost confidence and belief toward their goals and to exceed their own personal and professional expectations. He has made numerous special guest appearances on ESPN, Hallmark Channel, Fox, FX, TV Guide, and HLN/CNN. He offers top corporate entertainment with a take-home message. Kalmon's uniqueness comes from the way he combines music, audience participation, and comedy to create an unforgettable show that is unmatched by anyone, anywhere. It's a show that will keep you on the edge of your seat and take you on a Vacation of the Mind! Some of his corporate clients are AT&T, Disney, Dell, Boeing, GE, Microsoft, and Pepsi. Kalmon is also regularly invited to perform for professional sports teams, such as the USC Football Team, Cincinnati Bengals, Arizona Diamondbacks, Anaheim Angels, St. Louis Cardinals and New York Yankees.
Ricky Kalmon delivers corporate motivational keynote programs that will change the way you live, work, and think. His mindset motivational programs are inspirational and offer compelling, applicable tools anyone can use in personal and professional development. By "Unlocking the Power Within™," he reveals how the subconscious mind can be the greatest tool in achieving new heights, reducing stress, increasing productivity and success. Kalmon will show you how to enhance your mindset to repel doubt and ignite your positive intentions. Ricky has broadened the scope of personal self-discovery and has taught thousands of people how to empower themselves and enrich their lives. Hire Ricky Kalmon for corporate entertainment and his mindset motivational keynote programs.
Comments are closed.