Lt. Col. (ret.) Waldo Waldman – The Wingman – is a Hall of Fame leadership speaker, executive coach, and author of the New York Times and Wall Street Journal bestseller Never Fly Solo.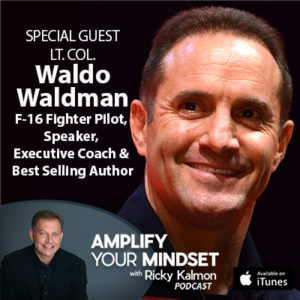 Waldo Waldman teaches organizations how to build trusting, revenue producing relationships with their employees, partners, and customers while sharing his experiences as a combat decorated F-16 fighter pilot and businessman.
He is a highly experienced combat veteran with over 2,650 flight hours and sixty-five real world combat missions, having flown both in Iraq enforcing the "No-Fly Zone" and in Yugoslavia during Operation Allied Force in 1999. Some of his military honors include five Air Medals, two Aerial Achievement Medals, four Air Force Commendation Medals, and two Meritorious Service Medals.
Waldo overcame massive claustrophobia and a fear of heights to become a fighter pilot and believes that the key to building a culture of trust lies with your wingmen – the men and women in your life who help you to overcome obstacles, adapt to change, and achieve success. In business and life, you should never fly solo!
Waldo is a graduate of the U.S Air Force Academy and also holds an MBA with a focus on Organizational Behavior. He is an inductee into the Professional Speaker Hall of Fame, a prestigious award that honors speakers who have reached the top echelon of platform excellence and has been bestowed on less than 190 speakers worldwide. He is also a Certified Speaking Professional (CSP) and his clients include Hewlett Packard, Verizon, American Express, Siemens, The Denver Broncos, and Johnson & Johnson.
In addition to his speaking business, Waldo is also founder and President of The Wingman Foundation, a 501(c)(3) whose mission is to build funds and awareness for soldiers, veterans and their families in need.
He's been featured on Fox & Friends, CNN, MSNBC, CNBC, The Harvard Business Review, Success Magazine, INC. Magazine, and Business Week.
For more info about Waldo's programs or his bestseller Never Fly Solo, visit www.yourwingman.com
Ricky Kalmon – Mindset Expert, Motivational Speaker & Celebrity Hypnotist
Ricky Kalmon has amazed audiences around the world. Kalmon empowers his audience with simple, but powerful techniques to boost confidence and belief toward their goals and to exceed their own personal and professional expectations. He has made numerous special guest appearances on ESPN, Hallmark Channel, Fox, FX, TV Guide, and HLN/CNN. He offers top corporate entertainment with a take-home message. Kalmon's uniqueness comes from the way he combines music, audience participation, and comedy to create an unforgettable show that is unmatched by anyone, anywhere. It's a show that will keep you on the edge of your seat and take you on a Vacation of the Mind! Some of his corporate clients are AT&T, Disney, Dell, Boeing, GE, Microsoft, and Pepsi. Kalmon is also regularly invited to perform for professional sports teams, such as the USC Football Team, Cincinnati Bengals, Arizona Diamondbacks, Anaheim Angels, St. Louis Cardinals and New York Yankees.
Ricky Kalmon delivers corporate motivational keynote programs that will change the way you live, work, and think. His mindset motivational programs are inspirational and offer compelling, applicable tools anyone can use in personal and professional development. By "Unlocking the Power Within™," he reveals how the subconscious mind can be the greatest tool in achieving new heights, reducing stress, increasing productivity and success. Kalmon will show you how to enhance your mindset to repel doubt and ignite your positive intentions. Ricky has broadened the scope of personal self-discovery and has taught thousands of people how to empower themselves and enrich their lives. Hire Ricky Kalmon for corporate entertainment and his mindset motivational keynote programs.
Comments are closed.