Ed Herman – Attorney & TV Personality
YouTube Star of "Ed Versus" and
"Three Lawyers Eating Sandwiches" on BCTV
 With Over 16 Million Views!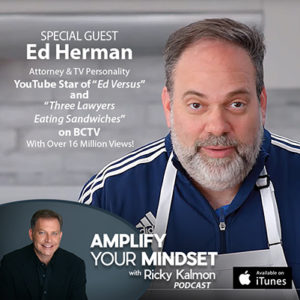 Ed Herman serves as a managing partner for the law firm Brown and Crouppen, one of the largest personal injury law firms in the Midwest. Ed has practiced personal injury and pharmaceutical law for over twenty years. He has been recognized by Superlawyers in 2017, 2018, and 2019. This distinction is reserved for the top 5% in the profession. Ed has appeared as a legal expert on television on over 400 occasions on programs such as Fox 2 News in the Morning, Great Day St. Louis, Show Me St. Louis, and Kansas City Live. He also serves as co-host for Taste and See Kansas City. He has been featured on WGN radio which broadcasts in 38 states plus Canada, as well as The Rizzuto Show on 105.7 The Point. Recently, Ed has turned his attention to digital content and stars in two highly viewed digital series, "Ed versus" and "Three lawyers Eating Sandwiches." These videos have garnered over 16 million views in the ten months since the first episode was launched. Ed is a graduate of Washington University School of Law where he was honored for excellence in Trial Advocacy as the recipient of the William M. Pomerantz Trial Prize, the Milton F. Napier Trial Award, and the Lewis F. Powell Award.
Check out www.getbctv.com
Ricky Kalmon – Mindset Expert, Motivational Speaker & Celebrity Hypnotist
Ricky Kalmon has amazed audiences around the world. Kalmon empowers his audience with simple, but powerful techniques to boost confidence and belief toward their goals and to exceed their own personal and professional expectations.  He has made numerous special guest appearances on ESPN, Hallmark Channel, Fox, FX, TV Guide, and HLN/CNN.  He offers top corporate entertainment with a take-home message.  Kalmon's uniqueness comes from the way he combines music, audience participation, and comedy to create an unforgettable show that is unmatched by anyone, anywhere. It's a show that will keep you on the edge of your seat and take you on a Vacation of the Mind! Some of his corporate clients are AT&T, Disney, Dell, Boeing, GE, Microsoft, and Pepsi.  Kalmon is also regularly invited to perform for professional sports teams, such as the USC Football Team, Cincinnati Bengals, Arizona Diamondbacks, Anaheim Angels, St. Louis Cardinals and New York Yankees.
Ricky Kalmon delivers corporate motivational keynote programs that will change the way you live, work, and think.  His mindset motivational programs are inspirational and offer compelling, applicable tools anyone can use in personal and professional development. By "Unlocking the Power Within™," he reveals how the subconscious mind can be the greatest tool in achieving new heights, reducing stress, increasing productivity and success. Kalmon will show you how to enhance your mindset to repel doubt and ignite your positive intentions. Ricky has broadened the scope of personal self-discovery and has taught thousands of people how to empower themselves and enrich their lives.  Hire Ricky Kalmon for corporate entertainment and his mindset motivational keynote programs.
Comments are closed.