Dr. Elliot Hirsch – Board Certified Plastic Surgeon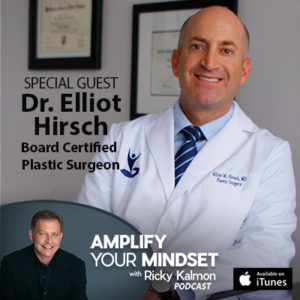 Dr. Elliot Hirsch is a board certified plastic surgeon who practices the full spectrum of plastic and reconstructive surgery, specializing in both cosmetic and reconstructive breast surgery including breast reconstruction, breast reduction, and breast implant removal and revision.  Dr. Hirsch's primary office is in Sherman Oaks, and treats patients from not only Los Angeles but from all over California and beyond.
Dr. Hirsch grew up in Westlake Village, Los Angeles and attended the prestigious Johns Hopkins University in Baltimore, Maryland where he graduated with Phi Beta Kappa and Omicron Delta Kappa honors, and also received the Kurt P. Richter award for outstanding research in the field of Behavioral Biology. After his undergraduate studies, Dr. Hirsch returned to Southern California for medical school at the Keck School of Medicine at the University of Southern California, where he graduated with highest distinction and was elected into the Alpha Omega Alpha honor society as well as the Order of Arete.
Dr. Hirsch completed his integrated plastic and reconstructive surgery residency at the prestigious Northwestern Memorial Hospital program in Chicago, Illinois where he received several awards for his research and teaching.
Since entering medical school, Dr. Hirsch has been an active researcher in the field of plastic surgery and has co-authored over 40 manuscripts and book chapters, and has received several grants for original research projects and holds patents for wound care devices.  Dr. Hirsch is board certified by the American Board of Plastic Surgery.
Ricky Kalmon – Mindset Expert, Motivational Speaker & Celebrity Hypnotist
Ricky Kalmon has amazed audiences around the world. Kalmon empowers his audience with simple, but powerful techniques to boost confidence and belief toward their goals and to exceed their own personal and professional expectations.  He has made numerous special guest appearances on ESPN, Hallmark Channel, Fox, FX, TV Guide, and HLN/CNN.  He offers top corporate entertainment with a take-home message.  Kalmon's uniqueness comes from the way he combines music, audience participation, and comedy to create an unforgettable show that is unmatched by anyone, anywhere. It's a show that will keep you on the edge of your seat and take you on a Vacation of the Mind! Some of his corporate clients are AT&T, Disney, Dell, Boeing, GE, Microsoft, and Pepsi.  Kalmon is also regularly invited to perform for professional sports teams, such as the USC Football Team, Cincinnati Bengals, Arizona Diamondbacks, Anaheim Angels, St. Louis Cardinals and New York Yankees.
Ricky Kalmon delivers corporate motivational keynote programs that will change the way you live, work, and think.  His mindset motivational programs are inspirational and offer compelling, applicable tools anyone can use in personal and professional development. By "Unlocking the Power Within™," he reveals how the subconscious mind can be the greatest tool in achieving new heights, reducing stress, increasing productivity and success. Kalmon will show you how to enhance your mindset to repel doubt and ignite your positive intentions. Ricky has broadened the scope of personal self-discovery and has taught thousands of people how to empower themselves and enrich their lives.  Hire Ricky Kalmon for corporate entertainment and his mindset motivational keynote programs.
Comments are closed.