Jim Stovall – Bestselling Author of The Ultimate Gift, Olympic Athlete, World-Renowned Speaker, and Film Producer.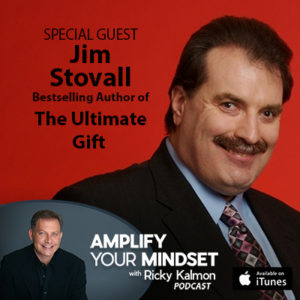 In spite of blindness, Jim Stovall has been a National Olympic weightlifting champion, a successful investment broker, the President of the Emmy Award-winning Narrative Television Network, and a highly sought-after author and platform speaker. He is the author of 40 books, including the bestseller, The Ultimate Gift, which is now a major motion picture from 20th Century Fox starring James Garner and Abigail Breslin. Five of his other novels have also been made into movies with two more in production.
Steve Forbes, president and CEO of Forbes magazine, says, "Jim Stovall is one of the most extraordinary men of our era." In this episode, Jim shares stories about his career and insight into the power of mindset.
For his work in making television accessible to our nation's 13 million blind and visually impaired people, The President's Committee on Equal Opportunity selected Jim Stovall as the Entrepreneur of the Year. Jim Stovall has been featured in The Wall Street Journal, Forbes magazine, USA Today, and has been seen on Good Morning America, CNN, and CBS Evening News. He was also chosen as the International Humanitarian of the Year, joining Jimmy Carter, Nancy Reagan, and Mother Teresa as recipients of this honor.
Ricky Kalmon – Mindset Expert, Motivational Speaker & Celebrity Hypnotist
Ricky Kalmon has amazed audiences around the world. Kalmon empowers his audience with simple, but powerful techniques to boost confidence and belief toward their goals and to exceed their own personal and professional expectations. He has made numerous special guest appearances on ESPN, Hallmark Channel, Fox, FX, TV Guide, and HLN/CNN. He offers top corporate entertainment with a take-home message. Kalmon's uniqueness comes from the way he combines music, audience participation, and comedy to create an unforgettable show that is unmatched by anyone, anywhere. It's a show that will keep you on the edge of your seat and take you on a Vacation of the Mind! Some of his corporate clients are AT&T, Disney, Dell, Boeing, GE, Microsoft, and Pepsi. Kalmon is also regularly invited to perform for professional sports teams, such as the USC Football Team, Cincinnati Bengals, Arizona Diamondbacks, Anaheim Angels, St. Louis Cardinals and New York Yankees.
Ricky Kalmon delivers corporate motivational keynote programs that will change the way you live, work, and think. His mindset motivational programs are inspirational and offer compelling, applicable tools anyone can use in personal and professional development. By "Unlocking the Power Within™," he reveals how the subconscious mind can be the greatest tool in achieving new heights, reducing stress, increasing productivity and success. Kalmon will show you how to enhance your mindset to repel doubt and ignite your positive intentions. Ricky has broadened the scope of personal self-discovery and has taught thousands of people how to empower themselves and enrich their lives. Hire Ricky Kalmon for corporate entertainment and his mindset motivational keynote programs.
Comments are closed.