Mark Willingham – CEO of AGENT
"The Fastest Growing Modeling Platform in the World."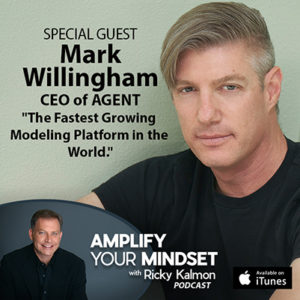 Mark Willingham is a longtime Fashion Industry Expert and CEO of AGENT. AGENT is the fastest growing modeling platform in the world with over 25,000 models registered nationwide. AGENT'S services include the development of professional model portfolios where 1,000's of individually selected models are showcased in high-resolution photos, easy booking and job management, trusted and secure payments, criminal and sex-offender background checks on all clients as well as ID verification and verification of needs, real time communication, detailed rating system, and much more.
As the CEO and Co-Founder of AGENT, Mark is responsible for ensuring initiatives are aligned with the company vision, spearheading strategy, overseeing operations, and ongoing corporate performance.
Prior to joining AGENT, Mark was the northern hemisphere president of Brazilian high-fashion brand Carmen Steffens. During his 11 years tenure the brand grew from 69 Carmen Steffens stores to more than 550 stores across 18 countries. And, prior to Carmen Steffens, he was vice president of marketing for 6 years at HeyAnita, a ground-breaking voice recognition and next-generation mobile messaging software company founded with executives from Microsoft.
Prior to HeyAnita, Mark was the president of The Willingham Group a marketing agency focusing on brand strategy and promotions. Clients included Warner Bros, North Face, Baskin-Robbins, Kahlua, Canadian Club, Sauza Tequila, Makers Mark, Dunkin' Donuts, and others.
Mark is a frequent public speaker and has been a guest lecturer at California State University Long Beach since 1998.
Ricky Kalmon – Mindset Expert, Motivational Speaker & Celebrity Hypnotist
Ricky Kalmon has amazed audiences around the world. Kalmon empowers his audience with simple, but powerful techniques to boost confidence and belief toward their goals and to exceed their own personal and professional expectations.  He has made numerous special guest appearances on ESPN, Hallmark Channel, Fox, FX, TV Guide, and HLN/CNN.  He offers top corporate entertainment with a take-home message.  Kalmon's uniqueness comes from the way he combines music, audience participation, and comedy to create an unforgettable show that is unmatched by anyone, anywhere. It's a show that will keep you on the edge of your seat and take you on a Vacation of the Mind! Some of his corporate clients are AT&T, Disney, Dell, Boeing, GE, Microsoft, and Pepsi.  Kalmon is also regularly invited to perform for professional sports teams, such as the USC Football Team, Cincinnati Bengals, Arizona Diamondbacks, Anaheim Angels, St. Louis Cardinals and New York Yankees.
Ricky Kalmon delivers corporate motivational keynote programs that will change the way you live, work, and think.  His mindset motivational programs are inspirational and offer compelling, applicable tools anyone can use in personal and professional development. By "Unlocking the Power Within™," he reveals how the subconscious mind can be the greatest tool in achieving new heights, reducing stress, increasing productivity and success. Kalmon will show you how to enhance your mindset to repel doubt and ignite your positive intentions. Ricky has broadened the scope of personal self-discovery and has taught thousands of people how to empower themselves and enrich their lives.
Comments are closed.