Dr. Nancy Irwin, Clinical Psychologist at Seasons in Malibu who specializes in trauma and addiction recovery.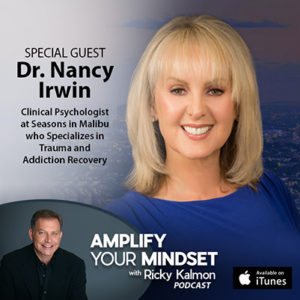 Dr. Nancy Irwin is a licensed clinical psychologist and highly sought after addiction therapist who specializes in hypnotherapy, as well as other holistic approaches for treating addictive behaviors, sexual abuse recovery, and other traumas. She currently works as a Primary Therapist at Seasons in Malibu, a renowned residential treatment facility in Malibu, California.
Dr. Irwin is also the author of YOU-TURN: Changing Direction in Midlife (2008), a collection of "over 40 stories of people over 40" who made amazing transitions in midlife and has been featured in a wide variety of media outlets including CNN, CNBC, Fox, and MSNBC.
Dr. Irwin experienced an epiphany when she began volunteering for Children of the Night, a shelter for sexually abused children in Los Angeles. This experience awoke the healer in Dr. Irwin, prompting her to pursue a doctorate in psychology at California Southern University with a specialty focus on the prevention and healing of sexual abuse. Dr. Irwin graduated from the Hypnosis Motivation Institute in Tarzana, California, in 2003, with honors and the Director's Award.
She is a member of the American Hypnosis Association, the Association for the Treatment of Sexual Abusers, the California Psychological Association, the Los Angeles County Psychological Association, and she is a Diplomate in the American Academy of Experts in Traumatic Stress.
A certified practitioner of EMDR (Eye Movement Desensitization and Reprocessing), Neuro-Linguistic Programming (NLP), Time Line Therapy, and Emotion Free Therapy, Dr. Irwin tailors each client's treatment to effect the most rapid transformation possible. Dr. Irwin's academic accomplishments, life experience, and personal approach together enable her to provide clients with a unique treatment experience.
Social Media Links
@SeasonsinMalibu
@DrNancyIrwin
Ricky Kalmon – Mindset Expert, Motivational Speaker & Celebrity Hypnotist
Ricky Kalmon has amazed audiences around the world. Kalmon empowers his audience with simple, but powerful techniques to boost confidence and belief toward their goals and to exceed their own personal and professional expectations.  He has made numerous special guest appearances on ESPN, Hallmark Channel, Fox, FX, TV Guide, and HLN/CNN.  He offers top corporate entertainment with a take-home message.  Kalmon's uniqueness comes from the way he combines music, audience participation, and comedy to create an unforgettable show that is unmatched by anyone, anywhere. It's a show that will keep you on the edge of your seat and take you on a Vacation of the Mind! Some of his corporate clients are AT&T, Disney, Dell, Boeing, GE, Microsoft, and Pepsi.  Kalmon is also regularly invited to perform for professional sports teams, such as the USC Football Team, Cincinnati Bengals, Arizona Diamondbacks, Anaheim Angels, St. Louis Cardinals and New York Yankees.
Ricky Kalmon delivers corporate motivational keynote programs that will change the way you live, work, and think.  His mindset motivational programs are inspirational and offer compelling, applicable tools anyone can use in personal and professional development. By "Unlocking the Power Within™," he reveals how the subconscious mind can be the greatest tool in achieving new heights, reducing stress, increasing productivity and success. Kalmon will show you how to enhance your mindset to repel doubt and ignite your positive intentions. Ricky has broadened the scope of personal self-discovery and has taught thousands of people how to empower themselves and enrich their lives.
Comments are closed.