"Sports World's Best Brain Trainer" – Sports Illustrated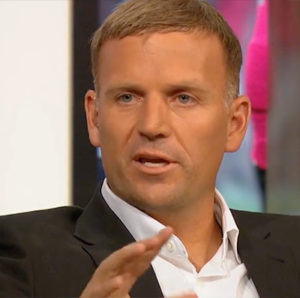 Trevor Moawad is a renowned Mental Conditioning expert and strategic advisor to some of the world's most elite performers. Trevor Moawad recently partnered with Russell Wilson to form Limitless Minds whose mission is to both optimize performance and enrich culture within some of the world's top organizations and elite performers. In 2017, Trevor was named the "Sports World's Best Brain Trainer" by Sports Illustrated. From Ft. Bragg to Harvard Business School, from elite Quarterbacks to top level CEOs. Moawad's mission is clear – to motivate the motivated. Moawad is well known for being the mental coach to Seattle Seahawks quarterback Russell Wilson, and has worked closely with prestigious NCAA Football programs and coaches, including Nick Saban, Kirby Smart and Jimbo Fisher. Moawad has been part of eight National championship games. Additionally, Trevor continues to support the U.S. Special Operations Community, Major League Baseball, the NBA, UFC and many other elite professionals.
Prior to starting his own mental conditioning company, Trevor held multiple roles as both Director of Mental Conditioning and Director of the multi-disciplined IMG Performance Institute (at the IMG Academies in Bradenton, Florida). More recently, he was the Vice President of Pro/Elite Sports and Mindset at the prestigious Athletes Performance Institute (now EXOS in Phoenix,AZ).
Moawad was raised in Washington State and is the son of world-renowned peak performance educator, the late Bob Moawad. Bob was an original contributor to 'Chicken Soup for the Soul' and the former President of the National Association For Self-Esteem.
As an athlete, Moawad was inducted into the Athletic Hall of Fame at Charles Wright Academy in Tacoma, Washington, and in 2018 was selected as the Academy's Distinguished Alumni of the Year. Trevor was an all-conference, two Sport athlete at Occidental College, the same school that produced both Jack Kemp and Barack Obama. At Occidental, Moawad received both his Bachelor's degree in Politics and his Master's degree in Education. Moawad yearly presents the 'Trevor Moawad Leadership Award' at Occidental, a designation to the top male and female athletes, who make an exceptional commitment to making their teammates better both on and off the field.
Trevor continues to be a thought leader in the performance space, appearing consistently in the global media, including ESPN, SI, Fox Sports, NPR, USA Today, The Herald Tribune, Outside the Lines and a number of national, regional and local outlets. Moawad costarred with Russell Wilson in ESPN's QB2QB in 2018, as well as appearing for a third season in ESPN's DRAFT ACADEMY.
Ricky Kalmon – Mindset Expert, Motivational Speaker & Celebrity Hypnotist
Ricky Kalmon has amazed audiences around the world. Kalmon empowers his audience with simple, but powerful techniques to boost confidence and belief toward their goals and to exceed their own personal and professional expectations.  He has made numerous special guest appearances on ESPN, Hallmark Channel, Fox, FX, TV Guide, and HLN/CNN.  He offers top corporate entertainment with a take-home message.  Kalmon's uniqueness comes from the way he combines music, audience participation, and comedy to create an unforgettable show that is unmatched by anyone, anywhere. It's a show that will keep you on the edge of your seat and take you on a Vacation of the Mind! Some of his corporate clients are AT&T, Disney, Dell, Boeing, GE, Microsoft, and Pepsi.  Kalmon is also regularly invited to perform for professional sports teams, such as the USC Football Team, Cincinnati Bengals, Arizona Diamondbacks, Anaheim Angels, St. Louis Cardinals and New York Yankees.
Ricky Kalmon delivers corporate motivational keynote programs that will change the way you live, work, and think.  His mindset motivational programs are inspirational and offer compelling, applicable tools anyone can use in personal and professional development. By "Unlocking the Power Within™," he reveals how the subconscious mind can be the greatest tool in achieving new heights, reducing stress, increasing productivity and success. Kalmon will show you how to enhance your mindset to repel doubt and ignite your positive intentions. Hire mindfulness keynote speaker Ricky Kalmon for your next corporate meeting. Kalmon has broadened the scope of personal self-discovery and has taught thousands of people how to empower themselves and enrich their lives.
Comments are closed.