Mike Durant – Best-Selling Author and Inspiration for the Movie Black Hawk Down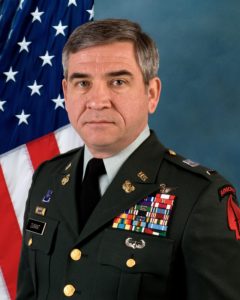 Mike Durant – Retired Chief Warrant Officer 4 Blackhawk helicopter Master Aviator in the 160th Special Operations Aviation Regiment Airborne, also known as SOARA.
On October 3, 1993, while piloting an MH60 Blackhawk in Mogadishu, Somalia, he was shot down and held captive by hostile forces. He was released eleven days later. He is the author of the NY Times Best Seller In the Company of Heroes and The Night Stalkers.
Today, he credits his harrowing ordeal for his success in business and his personal life.
He is a master aviator, qualified in the UH-1 Huey, MH-6 Loach, and MH-60A, L, and K models of the Blackhawk. He has a total of 3,700 flight hours with over 1,400 under Night Vision Goggles.
He is now the President and Chief Executive Officer of Pinnacle Solutions, Incorporated; an engineering and services company based in Huntsville, Alabama. He has a Bachelor of Science degree in Professional Aeronautics and a Master of Business Administration in Aviation degree from Embry-Riddle Aeronautical University.
In eleven years Pinnacle has grown from a home office-based startup to over 375 employees and more than 70 subcontractor personnel operating in fourteen US and international locations with major prime and subcontract efforts supporting the U.S. Army, U.S. Air Force, NASA and the U.S. Special Operations Command.
Military Service: Mike Durant CW4 (Retired), joined the 160th Special Operations Group on August 1, 1988. Assigned to D company, he performed duties as Flight Lead and Standardization Instructor Pilot. He participated in combat operations Prime Chance, Just Cause (Panama invasion December 1989), Desert Storm (Liberation of Kuwait in January-March 1991), and Restore Hope (Somalia in August-October 1993).
Military Awards:
A 2008 Army Aviation Association of American Hall of Fame Inductee and the National Veteran-Owned Business Association 2013 Vetrepreneur of the year, his military awards include the Distinguished Service Medal, the Distinguished Flying Cross with oak leaf cluster, Bronze Star with Valor device, Purple Heart, Meritorious Service Medal, three Air Medals, one with Valor device, the POW/MIA ribbon, the Army Commendation Medal with three Oak Leaf Clusters, and numerous other awards.
Pinnacle's awards and achievements include:
WBCNA 2010 Start-Up of the Year, Huntsville Chamber of Commerce 2011 Small Business Award Finalist and 2012 Best Place to Work Winner, MT2's Top Simulation and Training Companies (2012, 2013, 2014, 2015), 2012/13 Alabama DAV Small Business of the Year, 2012 Inc. 500 (#6 for Government Services), National Veteran-Owned Business Association 2013 Vetrepreneur of the year, 2013, 2015, 2016, 2017 & 2018 Inc. 5000 list of America's fastest growing companies.
Ricky Kalmon – Mindset Expert, Motivational Speaker & Celebrity Hypnotist
Ricky Kalmon has amazed audiences around the world. Kalmon empowers his audience with simple, but powerful techniques to boost confidence and belief toward their goals and to exceed their own personal and professional expectations. He has made numerous special guest appearances on ESPN, Hallmark Channel, Fox, FX, TV Guide, and HLN/CNN. He offers top corporate entertainment with a take-home message. Kalmon's uniqueness comes from the way he combines music, audience participation, and comedy to create an unforgettable show that is unmatched by anyone, anywhere. It's a show that will keep you on the edge of your seat and take you on a Vacation of the Mind! Some of his corporate clients are AT&T, Disney, Dell, Boeing, GE, Microsoft, and Pepsi. Kalmon is also regularly invited to perform for professional sports teams, such as the USC Football Team, Cincinnati Bengals, Arizona Diamondbacks, Anaheim Angels, St. Louis Cardinals and New York Yankees.
Ricky Kalmon delivers corporate motivational keynote programs that will change the way you live, work, and think. His mindset motivational programs are inspirational and offer compelling, applicable tools anyone can use in personal and professional development. By "Unlocking the Power Within™," he reveals how the subconscious mind can be the greatest tool in achieving new heights, reducing stress, increasing productivity and success. Kalmon will show you how to enhance your mindset to repel doubt and ignite your positive intentions. Ricky has broadened the scope of personal self-discovery and has taught thousands of people how to empower themselves and enrich their lives.
Comments are closed.