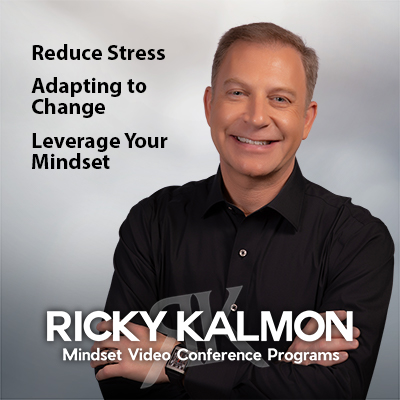 Now, More than Ever, Invest in Your Team and Leadership!
Let's face it, business as usual is a term of the past. It isn't business as usual. These are unprecedented times, and employees are experiencing stress, anxiety, and uncertainty. Working remotely offers unique challenges and can result in employees feeling isolated, overwhelmed while adapting to change, and increased stress. All of these factors can lead an employee to feel less valued, underappreciated, and less motivated.
During this time of unchartered territory, one thing is certain…employees need leadership and support more than ever from you. There has been no better time to integrate mindfulness into the workplace than now. In fact, mindfulness / mindset training programs are becoming the norm to continue motivating teams, and not just something to implement during challenging times.
Communication is key. Working remotely leaves employees feeling less informed and detached from their team. Increased communication will make employees feel valued, supported, and informed. We are human, and we thrive from interaction, coaching, and recognition.
During this past month, I have been speaking to teams and organizations around the world via video conferencing, creating an environment of mindfulness, stability, and continued productivity. My engaging programs are providing a level of calmness and focus for employees around the globe professionally and personally, adding another layer of support. We are all navigating uncharted waters together, and the evolving transition in our remote workforce is essential to continued success. Anxiety and stress reduce performance and efficiency. Mindfulness coaching programs help clear clutter, reduce stress, and reinforce an individual's goals. Giving your employees the added support during this time will yield positive long-term results for you! Working remotely can still generate performance, efficiency, and accuracy.
We cannot control the world around us; however, we can control the way we respond to it. You've provided your team with the technology and resources to carry out their duties. Let me help you guide them by encouraging a culture of mindfulness that will enhance their performance and goals. Now more than ever is the time to give your team that extra boost of momentum to ensure quotas are met, goals are achieved, positive attitudes continue to ensure your businesses continue to thrive.
I urge you to take a look at my series of Video Conferencing programs that I am offering teams around the world.
Reduce, Cope, and Manage Stress
Removing Doubt – Adapting to Change
Creating Your Internal Software
Setting and Achieving Goals – Overcoming the Status Quo
Performance, Productivity, and Prosperity!
Boosting Confidence and Belief – The Power of Self-Talk
You Don't Have Problems… You Have Challenges
Work, Life, and Balance to be Present
For more additional information and to set up a customized program today, contact william@rickykalmon.com  or call 770-442-8820
Comments are closed.