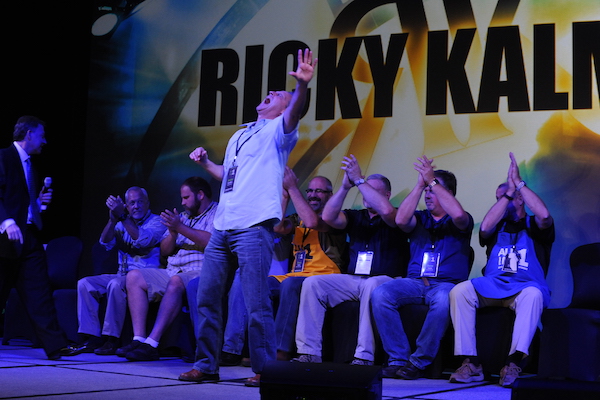 One of the Most Unique and High Energy Corporate Entertainers
By Bernie Lauder
Have you had enough of "so-so" speakers and "just like last time" corporate entertainment? Don't settle on the same corporate entertainment. I am always in search for top corporate event entertainment ideas. I discovered a corporate entertainer that truly delivered one of the funniest, interactive and clean comedy shows for corporate events.
I was running late when I entered a ballroom in Phoenix, where I was supposed to review a corporate entertainer. I was dreading suffering through another motivational guru. Instead I walked into a concert of Taylor Swift, Ed Shareen and Blake Shelton. The audience was cheering as they were singing. Of course, there weren't really these celebrities, but a panel of twelve people on stage thought they were! Five minutes later that same group was talking into their shoes as if they were cell phones and collecting napkins thinking they were hundred dollar bills. Suddenly, I realized this was going to be a night to remember for me, as well as the audience.
Celebrity Hypnotist and Corporate Entertainer Ricky Kalmon created a world where suggestions became reality. He captured this audience with charm, exceptional timing, and hypnotic talent. His energetic, improvisational, comedy show kept the audience laughing and mesmerized. Kalmon transformed his group of strangers into a group of friends. Even the person next to me in this packed ballroom could not believe what she was seeing. She told me that the show began with Corporate Hypnotist Ricky Kalmon quickly motivating the audience member to volunteer and join him on stage. Within moments he had them hypnotized: creating an unscripted and highly entertaining production. It was definitely not what I would have expected from a traditional hypnosis show – no dark atmosphere, no eerie music. What impressed me most about Ricky Kalmon was that his show was all done in good taste! Yes, this was one of the Best Corporate Entertainment Ideas that I have experienced.
Kalmon works mostly at sales meetings, conventions, and conferences doing corporate entertainment, rather than full time in Las Vegas. I asked Kalmon, who performs in three or four cities a week, why he thinks his show is so popular for corporate entertainment. "This show is the perfect team building, ice breaking and audience participation experience," he said, "My clients want their audiences involved. And they love the concept that their people become the stars of the show!"
Ricky Kalmon's show is a powerful tool for event planner and meeting planners who seek a fresh approach to motivation. His show can be tailored to reinforce the message of an event. The concept is simple. First Kalmon's audience experiences the strength of the power of suggestion, then; he uniquely incorporates your specific ideas and messages into his presentation. Celebrity Hypnotist Ricky Kalmon redefines corporate entertainment with educational / empowerment take home value.
Comments are closed.