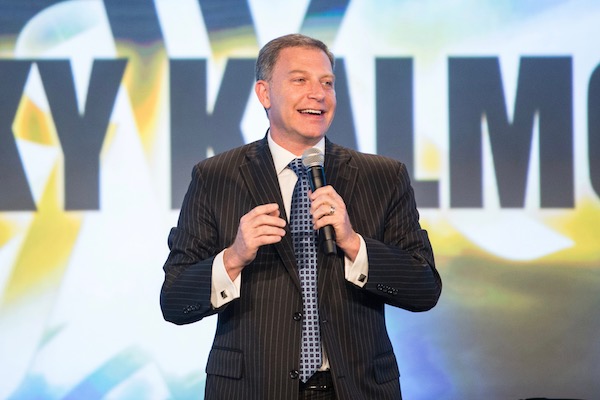 Empower Your Corporate Team
Corporate Entertainment and Motivational Keynotes With Take Home Value
As a corporate motivational speaker and entertainer, I customize every program to best fit the needs and interests of my corporate clients. My programs offer the best in corporate entertainment and motivational keynote programs with take-home value. One of the most common topics is how to help employees at all levels to destress.
Too often, people think change requires a great deal of time and effort. They dismiss any ideas or techniques that sound too simple, thinking they won't produce measurable results. However, relaxation techniques are both simple and very effective.
When was the last time you made a real effort to declutter your mind by doing something as simple, but so effective, as creating a calm and relaxed state of mind?
The majority of the emails I receive fall into two categories. Some of them are from people who share how the simple techniques I've shared helped them create awareness and action in their personal and professional lives. Those who have seen these results are amazed by how effective they are! The other emails I get are from people who are skeptical and comment that it can't be that easy. They have a difficult time believing that anything so simple as breathing and relaxing can create real results and changes in their lives.
Take Time to Breathe and Relax.
Don't take the simplicity for granted. Some of the greatest gifts in life are simple. When we don't consider something because we think it's too easy or we dismiss things that are simple, we deprive ourselves of the ability to benefit from them. When I tell people how to clear their mind and reduce stress, there are some who think there must be more to it–they're looking for more. There isn't more. I'm not keeping any secrets–I'm sharing them! Simply creating time to STOP what you're doing and taking the time to BREATHE and RELAX will provide you with a calmness, clarity, and direction that will enable you to improve all areas of your life.
Yes, it can be that simple.
Self-improvement, growth, and change are all within your grasp. Don't make it any harder than it has to be. When we dismiss things because of their simplicity, we move them aside and neglect to follow through. Dedicate several minutes of each and every day to the simple act of breathing and relaxing. You'll be more invigorated, inspired, and prepared to deal with the more complex things in your life!
"Life is really simple, but we insist on making it complicated." ~Confucius
At corporate events, sales meetings, conventions, and conferences, there is a common goal: Offer your team ways to empower themselves. My corporate keynote programs offer executives and employees at all levels a way to bring out the best in themselves.
If you are planning a corporate event, sales conference, or meeting, my programs can be customized to fit your audience and overall theme. They are developed to take you and your team to the next level. https://rickykalmon.com/motivational-speaker/keynote-information 
Ricky Kalmon is a Mindset Expert, Motivational Speaker, and Celebrity Hypnotist that delivers high-energy corporate entertainment and motivational keynote programs.
Comments are closed.