Dhomonique Murphy – PGA Player, Instructor and CoachMrs. Virginia, Journalist, Author and Philanthropists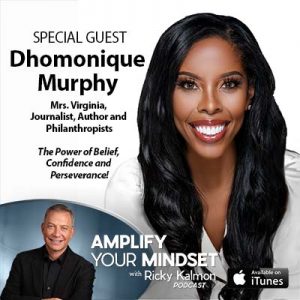 Dhomonique Murphy is a 3x Emmy Award Winning Television Journalist and the reigning Mrs. Virginia American. Dhomonique has appeared on stages across the nation and has been featured on The Steve Harvey Show, FOX, ABC, NBC, HSN, CBS and countless radio, print, and local television platforms. 
 Dhomonique is a published author of three books: A) RESET: Attitude is Everything, B) The Right Method Cookbook and a contributing author on the bestselling book: 1Habit for Entrepreneurial Success alongside Forbes Riley and Les Brown.
She is the founder of a 501(c)(3) nonprofit called The Yellow Box Project by Readers2Leaders, Inc. (TheYellowBox.org) The Yellow Box Project is on a mission to put thousands of books by way of e-reader into the hands of children in underserved communities across the nation.
Ricky Kalmon – Mindset Expert, Motivational Keynote Speaker, Author, & Celebrity Hypnotist
Ricky Kalmon is a mindset expert, motivational speaker, celebrity hypnotist, and author of the book Leverage Your Mindset – Overcome Limiting Beliefs and Amplify Your Life. He is also the creator and developer of the mindfulness app titled RICKY KALMON.  As an international speaker and consultant, Kalmon is a Visionary Architect in personal growth and potential. Kalmon reveals how our mindset can be the greatest tool in achieving new heights, reducing stress, and increasing productivity and potential. He has made numerous special guest appearances on ESPN, Hallmark Channel, Fox, FX, TV Guide, and HLN/CNN.  He offers top corporate entertainment with a take-home message.  Kalmon's uniqueness comes from the way he combines music, audience participation, and comedy to create an unforgettable show that is unmatched by anyone, anywhere. It's a show that will keep you on the edge of your seat and take you on a Vacation of the Mind! Some of his corporate clients are AT&T, Disney, Dell, Boeing, GE, Microsoft, and Pepsi.  Kalmon is also regularly invited to perform for professional sports teams, such as the USC Football Team, Cincinnati Bengals, Arizona Diamondbacks, Anaheim Angels, St. Louis Cardinals and New York Yankees.
Mindfulness Motivational Keynote Speaker Ricky Kalmon delivers corporate motivational keynote programs and virtual coaching that will change the way you live, work, and think.  His mindset motivational programs are inspirational and offer compelling, applicable tools anyone can use in personal and professional development. By "Unlocking the Power Within™," he reveals how our mindset can be the greatest tool in achieving new heights, reducing stress, increasing productivity and success. Kalmon will show you how to enhance your mindset to repel doubt and ignite your positive intentions. Ricky has broadened the scope of personal self-discovery and has taught thousands of people how to empower themselves and enrich their lives.  Hire Mindset Motivational Keynote Speaker Ricky Kalmon your next virtual sales meeting, conference, and corporate leadership training program.
Benefits of Ricky Kalmon's programs include:
Stress Reduction / Mindfulness
Overcoming Challenges / Adapting to Change
Accountability and Potential
Confidence / Attitude and Belief
Purpose and Prosperity
Comments are closed.