Lance J. Cunha – International Banker, Consultant and Heart Transplant Recipient.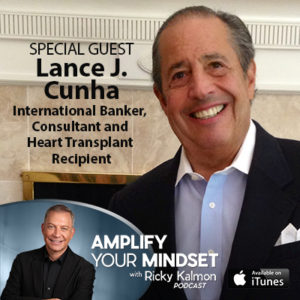 Lance J. Cunha – international banker, consultant and heart transplant recipient. He received the miraculous gift of a heart transplant. In his 2016 published book, Resolute: My Quest For A New Heart, Mr. Cunha tells the remarkable and emotional story of his difficult journey for a new heart and his utter determination to live. Since his heart transplant, Lance and his wife have been ardent supporters of Emory's Nell Hodgson Woodruff School of Nursing and the Georgia Transplant Foundation.
Resolute: My Quest For A New Heart
One man's resolute determination to live… On New Year's Day 2014, retired international banker and consultant, Lance Cunha, and a young man from Georgia "met" through a heart transplant. For several years, Lance had suffered with heart failure and, recently, had been on life support for over two months-until the remarkable day when his life intersected with the young man's tragic death. Resolute tells the story of the events leading up to the unforgettable day when Lance received a new heart. It's a story of utter sadness and glorious triumph; the author's long, hard quest for a heart transplant; and his determination to fulfill a seemingly impossible dream. The memoir also invites the reader to a poignant meeting between Lance and the donor's family, followed by some extraordinary and moving experienc-es. Join Lance on the emotional roller-coaster ride as he documents the difficult journey of waiting for, receiving, and then recovering from the heart transplant that saved his life. Resolute will open your soul, mind, and heart to miracles! For more information on Resolute, visit Amazon
Ricky Kalmon – Mindset Expert, Motivational Keynote Speaker, Author, & Celebrity Hypnotist
Ricky Kalmon is a mindset expert, motivational speaker, celebrity hypnotist, and author of the book Leverage Your Mindset – Overcome Limiting Beliefs and Amplify Your Life. He is also the creator and developer of the mindfulness app titled RICKY KALMON.  As an international speaker and consultant, Kalmon is a Visionary Architect in personal growth and potential. Kalmon reveals how our mindset can be the greatest tool in achieving new heights, reducing stress, and increasing productivity and potential. He has made numerous special guest appearances on ESPN, Hallmark Channel, Fox, FX, TV Guide, and HLN/CNN.  He offers top corporate entertainment with a take-home message.  Kalmon's uniqueness comes from the way he combines music, audience participation, and comedy to create an unforgettable show that is unmatched by anyone, anywhere. It's a show that will keep you on the edge of your seat and take you on a Vacation of the Mind! Some of his corporate clients are AT&T, Disney, Dell, Boeing, GE, Microsoft, and Pepsi.  Kalmon is also regularly invited to perform for professional sports teams, such as the USC Football Team, Cincinnati Bengals, Arizona Diamondbacks, Anaheim Angels, St. Louis Cardinals and New York Yankees.
Mindfulness Motivational Keynote Speaker Ricky Kalmon delivers corporate motivational keynote programs and virtual coaching that will change the way you live, work, and think.  His mindset motivational programs are inspirational and offer compelling, applicable tools anyone can use in personal and professional development. By "Unlocking the Power Within™," he reveals how our mindset can be the greatest tool in achieving new heights, reducing stress, increasing productivity and success. Kalmon will show you how to enhance your mindset to repel doubt and ignite your positive intentions. Ricky has broadened the scope of personal self-discovery and has taught thousands of people how to empower themselves and enrich their lives.  Hire Mindset Motivational Keynote Speaker Ricky Kalmon your next virtual sales meeting, conference, and corporate leadership training program.
Benefits of Ricky Kalmon's programs include:
Stress Reduction / Mindfulness
Overcoming Challenges / Adapting to Change
Accountability and Potential
Confidence / Attitude and Belief
Purpose and Prosperity
Comments are closed.