Andrew Zimmern –  Emmy and James Beard Award-winning TV personality, chef, author, teacher, and social activist.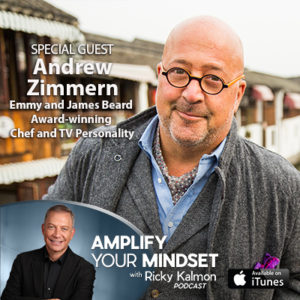 Andrew Zimmern (andrewzimmern.com) is regarded as one of the most knowledgeable personalities in the food world. In February 2020, Andrew returned to television with What's Eating America, which premiered on MSNBC, and in 2021, he will premiere Family Dinner, on Chip & Joanna Gaines' Magnolia Network. As the creator, Executive Producer and Host of Travel Channel's Bizarre Foods franchise, Andrew Zimmern's Driven by Food and the Emmy Award-winning The Zimmern List, Andrew has devoted his life to exploring and promoting cultural acceptance, tolerance and understanding through food.
In 1997, Andrew founded the multi-media company Food Works, which oversees his digital, print and social initiatives, his website and publishing projects. In 2014, Andrew founded Intuitive Content, a full-service production company that develops and produces original television and broadcast specials. Intuitive Content works with a diverse group of networks including MSNBC, Magnolia, Travel Channel, Reelz, Discovery Science and Food Network, as well as companies such as Whirlpool, Marriott, Caribou Coffee and AquaChile to create brand-driven series and digital content. Intuitive Content's first series, Andrew Zimmern's Driven by Food, premiered on Travel Channel in August 2016. Their second series, The Zimmern List, won a gold Telly award, and the 2020 Daytime Emmy Award for Outstanding Travel and Adventure Program, and Andrew was also nominated for an Emmy in the Outstanding Host category. Other IC series include Big Food Truck Tip, Crash Test World and How to Survive a Murder. The Family Dinner series on Discovery's Magnolia Network will follow Andrew as he discovers how the cultural, regional, and historical facets of who we are inform what and how we eat.In 2015, Andrew launched Passport Hospitality, which creates unique culinary concepts and provides consulting services to various restaurant and retail projects. Passport oversees several brands including the quick service concept Andrew Zimmern's Canteen in Target Field and US Bank Stadium in Minneapolis. Andrew has collaborated with Minneapolis chef Gavin Kaysen to create KZ ProVisioning, a catering company for professional sports franchises, including the NHL's Minnesota Wild and the NBA's Timberwolves. He has also partnered with Gansevoort Construction's Robert Montwaid to develop experiential food halls in the Dayton's building in downtown Minneapolis and in Atlanta's Chattahoochee Food Works.
Andrew has written four books—The Bizarre Truth, Andrew Zimmern's Bizarre World of Food and Andrew Zimmern's Field Guide to Exceptionally Weird, Wild & Wonderful Food, and Alliance of World Explorers, Volume 1: AZ and the Lost City of Ophir, his latest offering, a grade level reader series which won the Gold IPPY in Juvenile Fiction. Andrew sits on the board of directors for Services for the UnderServed, Project Explorer, Taste of the NFL and Soigne Hospitality. He serves on City Harvest's Food Council and is the International Rescue Committee's Voice for Nutrition. Andrew is a founding member of the Independent Restaurant Coalition, fighting to save restaurants affected by Covid-19. He resides in Minneapolis.
Ricky Kalmon – Mindset Expert, Motivational Keynote Speaker & Celebrity Hypnotist
Ricky Kalmon has amazed audiences around the world. Kalmon empowers his audience with simple, but powerful techniques to boost confidence and belief toward their goals and to exceed their own personal and professional expectations.  He has made numerous special guest appearances on ESPN, Hallmark Channel, Fox, FX, TV Guide, and HLN/CNN.  He offers top corporate entertainment with a take-home message.  Kalmon's uniqueness comes from the way he combines music, audience participation, and comedy to create an unforgettable show that is unmatched by anyone, anywhere. It's a show that will keep you on the edge of your seat and take you on a Vacation of the Mind! Some of his corporate clients are AT&T, Disney, Dell, Boeing, GE, Microsoft, and Pepsi.  Kalmon is also regularly invited to perform for professional sports teams, such as the USC Football Team, Cincinnati Bengals, Arizona Diamondbacks, Anaheim Angels, St. Louis Cardinals and New York Yankees.
Mindfulness Motivational Keynote Speaker Ricky Kalmon delivers corporate motivational keynote programs and virtual coaching that will change the way you live, work, and think.  His mindset motivational programs are inspirational and offer compelling, applicable tools anyone can use in personal and professional development. By "Unlocking the Power Within™," he reveals how our mindset can be the greatest tool in achieving new heights, reducing stress, increasing productivity and success. Kalmon will show you how to enhance your mindset to repel doubt and ignite your positive intentions. Ricky has broadened the scope of personal self-discovery and has taught thousands of people how to empower themselves and enrich their lives.  Hire Mindset Motivational Keynote Speaker Ricky Kalmon your next sales meeting, conference, and corporate leadership training program.
Benefits of Ricky Kalmon's programs include:
Stress Reduction / Mindfulness
Overcoming Challenges / Adapting to Change
Accountability and Potential
Confidence / Attitude and Belief
Purpose and Prosperity
Comments are closed.