Celebrity Chef, Nutritionist and Reiki Master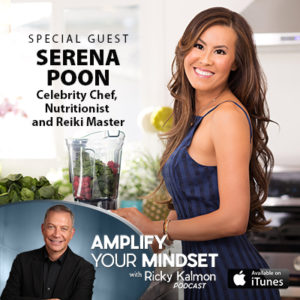 Celebrity Chef, Nutritionist and Reiki Master, Serena Poon has made it her mission to promote further education around the mindful combination of food, nutrition and healing intuition inwhat she has coined, "Culinary Alchemy®."
A leading Chef to the Hollywood elite, Serena sets herself apart in a saturated industry with her genuine passion for curating intentional healing and wellness programs designed for optimal, sustainable health. Integrating energetic techniques with guidance and education on food nutrition, how food affects our bodies on a physiological level, as well as how it affects the emotional body, her goal is to support the nutritional, emotional and spiritual well-being of her clients. Her motivation for concentrating on intuitive and functional food healing began long before she started creating contemporary meals, menus and nutritional plans for the likes of Jerry Bruckheimer, Sean "P. Diddy" Combs, and Kerry Washington, amongst others.
Serena's driven devotion of focusing on the importance of whole body, mind and soul wellness is inspired by the profound effect cancer had on her family, with both her mother and father diagnosed within two years of each other. Recognizing the immense impact food has on the mind, body and spirit, Serena welcomed a new path in her life and began her career as a Nutritionist and Chef with degrees from UC Berkeley and the esteemed Le Cordon Bleu. As a Chef for Hugh Hefner at the Playboy Mansion, Serena built a list of private clients and started introducing dietary, health and wellness planning into her classic fine dining services. Focusing now on her Culinary Alchemy®, her designs balance integrative health and holistic nutrition, customized to fit individual lifestyles and demanding schedules. She approaches every client with grace and gratitude along with a commitment to investing her best-self and endless knowledge to their overall well-being.
Serena's philosophy for living an optimal healthy lifestyle can be achieved by integrating nutritional and physical therapy, healing energy and balancing the body's support system. In 2018, she launched her health and wellness line, Just Add Water™, and continues the expansion of her lifestyle brand Serena Loves, as well as inspiring others to live their best lives through the addition of her recently launched television show, Serena Loves TV and podcast, Serena Loves. Serena continues to bring her methodology of Culinary Alchemy® to life, building on her mission of introducing new intentional methods of wellness and mindfulness to her clients and community. Learn More About Serena at
serenaloves.com
Ricky Kalmon – Mindset Expert, Motivational Keynote Speaker & Celebrity Hypnotist
Ricky Kalmon has amazed audiences around the world. Kalmon empowers his audience with simple, but powerful techniques to boost confidence and belief toward their goals and to exceed their own personal and professional expectations.  He has made numerous special guest appearances on ESPN, Hallmark Channel, Fox, FX, TV Guide, and HLN/CNN.  He offers top corporate entertainment with a take-home message.  Kalmon's uniqueness comes from the way he combines music, audience participation, and comedy to create an unforgettable show that is unmatched by anyone, anywhere. It's a show that will keep you on the edge of your seat and take you on a Vacation of the Mind! Some of his corporate clients are AT&T, Disney, Dell, Boeing, GE, Microsoft, and Pepsi.  Kalmon is also regularly invited to perform for professional sports teams, such as the USC Football Team, Cincinnati Bengals, Arizona Diamondbacks, Anaheim Angels, St. Louis Cardinals and New York Yankees.
Mindfulness Motivational Keynote Speaker Ricky Kalmon delivers corporate motivational keynote programs and virtual coaching that will change the way you live, work, and think.  His mindset motivational programs are inspirational and offer compelling, applicable tools anyone can use in personal and professional development. By "Unlocking the Power Within™," he reveals how our mindset can be the greatest tool in achieving new heights, reducing stress, increasing productivity and success. Kalmon will show you how to enhance your mindset to repel doubt and ignite your positive intentions. Ricky has broadened the scope of personal self-discovery and has taught thousands of people how to empower themselves and enrich their lives.  Hire Mindset Motivational Keynote Speaker Ricky Kalmon your next sales meeting, conference, and corporate leadership training program.
Benefits of Ricky Kalmon's programs include:
Stress Reduction / Mindfulness
Overcoming Challenges / Adapting to Change
Accountability and Potential
Confidence / Attitude and Belief
Purpose and Prosperity
Comments are closed.