Cory Oliver – Actress, Beauty Expert, Entrepreneur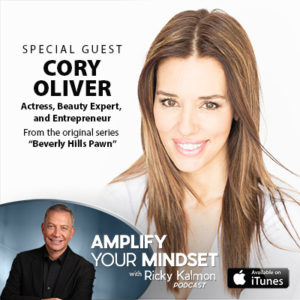 Cory Oliver is a multi-talented actress and beauty expert who is best known for starring in the feature film "God's Not Dead" as well as starring in the original series "Beverly Hills Pawn" for the REELZChannel.  Behind-the-scenes she has been a licensed make-up artist and hairdresser for Hollywood's A-list, which led to her developing her own beauty balm skincare line "Beverly Hills Balm."   Currently, she is co-hosting "Hollywood Westlake," a streaming lifestyle series with Ryan O'Quinn,  that premiered February 2020 on Apple TV, Roku, Instagram and Facebook.
Cory was born and raised in the Northern California town of Redwood City. She is a small-town girl at heart but knew from an early age she always wanted to go to Hollywood and pursue a career in the entertainment industry.  While in college she studied cosmetology and advanced to master stylist within three months.  In nine months, Cory earned her cosmetology license from the accredited Dons Beauty School.   Cory also attended the Van Mar Academy and the Lee Strasberg Theatre and Film Institute in the 90's and studied with some of Hollywood's prominent acting Coaches, Joe Salazar and Howard Fine.
Upon graduation, Cory moved to Los Angeles with $400 dollars in her pocket (first month's rent) and a car filled with big dreams and everything she owned to begin a career in entertainment.
Cory began working as a hair and makeup artist in film, TV and editorial shoots where she was fortunate to create the flawless face look on many celebrities including Kirsten Dunst, Jennifer Love Hewitt, Isabella Rossellini, Kris Jenner, Betty White, Dustin Hoffman and Mariel Hemingway, to name a few.  Her work has graced the covers of magazines such as Vogue, People, Hype, Shape, Women's Health, and many more.
Thanks to Cory's hard work behind the scenes as a make-up artist, perseverance and devout faith, she finally landed a talent agent who would open up many new doors of opportunity for her in front of the camera. The next day he booked her on the television series "Silk Stalkings."
Cory continued to act in television and feature films including landing one of the lead roles of Mina in the international box office hit "God's Not Dead," which earned her a Grace Award nomination for her leading role opposite Kevin Sorbo. "God's Not Dead" went on to win top honors at the 2015 MovieGuide Awards, receiving two awards, including its selection to the Top 10 Movies for Families and the Epiphany Prize for the Most Inspiring Movie of 2014.
Cory has worked with some of Hollywood's finest filmmakers and producers, including David Zucker, Tom Everett Scott, Trey Parker and Matt Stone.  Her other feature film credits include "Dead Man On Campus," "Chairman of the Board" and "BASEketball," among others.  On the small screen her credits include "Pacific Blue," "Weird Science," "Beverly Hills 90210" and the hit CBS soap opera "The Young and The Restless."   Her 'Bud Light' Super Bowl commercial earned top-25 commercials of all time in 2000.
Cory starred in the hit reality series "Beverly Hills Pawn" on the REELZ channel, where she and the team at The Dina Collection buy and sell rare collectibles and Hollywood memorabilia.  She has always had a passion for "Old Hollywood" and enjoyed researching items from different genres.
In addition to acting, Cory is an award-winning screenwriter and 2020 has her focusing on the production of her screenplay, "Jack and Jill."  Currently in development, the screenplay took 2nd place in Scriptapalooza, top ten in Nevada Film Festival and semi-finalist in Francis Ford Coppola's "American Zoetrope contest."
Cory also has a strong faith in God and a ministry for marriage, and among her many talents are singing. As an extension of her faith, core beliefs and incredible heartbreak, she wrote, recorded and released the inspirational single "I'm Somebody's Daughter" in June 2019, featuring Jordan Smith, Priya and Lily Carson. It is available for download on iTunes and Spotify.
Outside of work, Cory is a dedicated mother to her daughter Ariana and her golden retriever Bailey.  Additionally, she is an avid supporter of the Tourette Association of America and continues to support Boot Campaign, a military non-profit.    https://coryoliver.com
Ricky Kalmon – Mindset Expert, Motivational Keynote Speaker & Celebrity Hypnotist
Ricky Kalmon has amazed audiences around the world. Kalmon empowers his audience with simple, but powerful techniques to boost confidence and belief toward their goals and to exceed their own personal and professional expectations.  He has made numerous special guest appearances on ESPN, Hallmark Channel, Fox, FX, TV Guide, and HLN/CNN.  He offers top corporate entertainment with a take-home message.  Kalmon's uniqueness comes from the way he combines music, audience participation, and comedy to create an unforgettable show that is unmatched by anyone, anywhere. It's a show that will keep you on the edge of your seat and take you on a Vacation of the Mind! Some of his corporate clients are AT&T, Disney, Dell, Boeing, GE, Microsoft, and Pepsi.  Kalmon is also regularly invited to perform for professional sports teams, such as the USC Football Team, Cincinnati Bengals, Arizona Diamondbacks, Anaheim Angels, St. Louis Cardinals and New York Yankees.
Mindfulness Motivational Keynote Speaker Ricky Kalmon delivers corporate motivational keynote programs and virtual coaching that will change the way you live, work, and think.  His mindset motivational programs are inspirational and offer compelling, applicable tools anyone can use in personal and professional development. By "Unlocking the Power Within™," he reveals how our mindset can be the greatest tool in achieving new heights, reducing stress, increasing productivity and success. Kalmon will show you how to enhance your mindset to repel doubt and ignite your positive intentions. Ricky has broadened the scope of personal self-discovery and has taught thousands of people how to empower themselves and enrich their lives.  Hire Mindset Motivational Keynote Speaker Ricky Kalmon your next sales meeting, conference, and corporate leadership training program.
Benefits of Ricky Kalmon's programs include:
Stress Reduction / Mindfulness
Overcoming Challenges / Adapting to Change
Accountability and Potential
Confidence / Attitude and Belief
Purpose and Prosperity
Comments are closed.