Joshua Dobbs – Quarterback for the Jacksonville Jaguars & Aerospace Engineer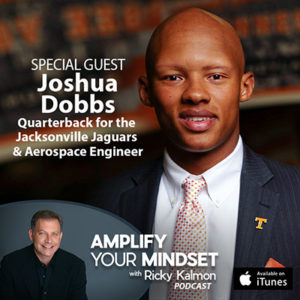 Joshua Dobbs, a native of Alpharetta, Georgia, is a young man who possesses intelligence, leadership, and a natural ability to play the quarterback position. He developed two passions at a very early age: football, which he started playing at 5 years old, and airplanes.
Currently a Quarterback for the Jacksonville Jaguars, he earned his opportunity into the NFL through his on-field football success as a four-year Letterman and Team Captain for the University of Tennessee Volunteers. Joshua was also an incredibly bright student. He graduated from the Tickle College of Engineering, in May 2017, where he completed a five-year Aerospace Engineering degree and a Business Administration minor, all within four years.
During his time at UTK, Joshua participated in the Chancellor's Honors Program. He excelled in the classroom and earned numerous academic honors, including four consecutive years as a Football Academic Torchbearer and SEC Academic Honor Roll Recipient – only the seventh player in UTK history to achieve that distinction. In the spring of 2017, Joshua was one of seven seniors awarded the 2017 Torchbearer Award, the highest honor an undergraduate student can receive from the university. He was only the 26th student-athlete and first UT football player since 1958 to earn the award, which was established in 1931.
As a student-athlete, he also found time over his summer breaks to work two premiere internships at global aerospace manufacturer Pratt & Whitney – the first in West Palm Beach, Florida and the second in Montreal, Canada.
Joshua is well known for his role as the quarterback for the Tennessee Volunteers from 2013-2016. He finished an illustrious college career while helping to resurrect the storied program with 24 wins, including 3-consecutive, bowl wins. As the Athlon's 2016 SEC Offensive Player of the Year, he was both the most productive quarterback and most productive offensive player in the Southeastern Conference. Joshua finished his Tennessee career with 86 touchdowns (53 passing, 31 rushing and 2 receiving). Only Peyton Manning had more TDs in Tennessee history (101 TDs). Page | 2
In 2018, only one year following his graduation from the UTK, Joshua was named to the UT Alumni Board of Directors as its youngest members. In addition, his hometown, North Atlanta UT Alumni Chapter established the R. Joshua Dobbs Scholarship, during the spring of his senior year in college. Within months, the scholarship was fully endowed through Joshua's personal financial contributions and fundraising efforts. And in the fall of 2019, he was also appointed to the Tickle College of Engineering's Board of Advisors.
As a professional, Joshua was selected by the Pittsburgh Steelers as the 135th pick in the 2017 NFL Draft. After two years with the organization, he was traded to the Jacksonville Jaguars at the start of the 2019 season.
Forever an engineer, Joshua stays productive around his off-season training by seeking creative ways to fuel his second passion of aerospace. Over consecutives off seasons, he has attended the NSBE National Convention and NASA Adult Space Academy, where he was recognized with the camp's "Right Stuff" award, volunteered at the Atlanta Science Festival, and participated in F-16 jet flight training with the U.S. Air Force Thunderbirds. He spent his most recent off season as a NASA Intern at the Kennedy Space Center in Florida.
Driven by a strong sense of service in his community, Joshua is also well known for his work in the community. Recognized as a "Hometown Hero", exemplifying the Volunteer Spirit, Joshua is passionate about his work with various non-profit groups, including the Boys and Girls Club, the Children's Home of Pittsburgh & Lemieux Family Center, the Children's Hospital of Pittsburgh, the East Tennessee Children's Hospital, the Emerald Youth Foundation, Girls, Inc. of TN Valley, Horizons National, Knoxville HonorAir, the Pittsburgh Police Jr. Chess Club, and the Wounded Warrior Project. In addition, he is a national spokesperson for the National Alopecia Areata Foundation and the Go Create It 21-Day Empathy Challenge.
Professionally, collegiately, and personally, Joshua Dobbs embodies leadership, talent, citizenship, and stewardship, and serves as a torchbearer of these attributes for the University of Tennessee, the Jacksonville Jaguars, and the NFL.
Ricky Kalmon – Mindset Expert, Motivational Keynote Speaker & Celebrity Hypnotist
Ricky Kalmon has amazed audiences around the world. Kalmon empowers his audience with simple, but powerful techniques to boost confidence and belief toward their goals and to exceed their own personal and professional expectations. He has made numerous special guest appearances on ESPN, Hallmark Channel, Fox, FX, TV Guide, and HLN/CNN. He offers top corporate entertainment with a take-home message. Kalmon's uniqueness comes from the way he combines music, audience participation, and comedy to create an unforgettable show that is unmatched by anyone, anywhere. It's a show that will keep you on the edge of your seat and take you on a Vacation of the Mind! Some of his corporate clients are AT&T, Disney, Dell, Boeing, GE, Microsoft, and Pepsi. Kalmon is also regularly invited to perform for professional sports teams, such as the USC Football Team, Cincinnati Bengals, Arizona Diamondbacks, Anaheim Angels, St. Louis Cardinals and New York Yankees.
Mindfulness Motivational Keynote Speaker Ricky Kalmon delivers corporate motivational keynote programs that will change the way you live, work, and think. His mindset motivational programs are inspirational and offer compelling, applicable tools anyone can use in personal and professional development. By "Unlocking the Power Within™," he reveals how our mindset can be the greatest tool in achieving new heights, reducing stress, increasing productivity and success. Kalmon will show you how to enhance your mindset to repel doubt and ignite your positive intentions. Ricky has broadened the scope of personal self-discovery and has taught thousands of people how to empower themselves and enrich their lives. Hire Mindset Motivational Keynote Speaker Ricky Kalmon your next sales meeting, conference, and corporate leadership training program.
Benefits of Ricky Kalmon's programs include:
Stress Reduction / Mindfulness
Overcoming Challenges / Adapting to Change
Accountability and Potential
Confidence / Attitude and Belief
Purpose and Prosperity
Comments are closed.