Celebrating and Recognizing World Sleep Day – March 13, 2020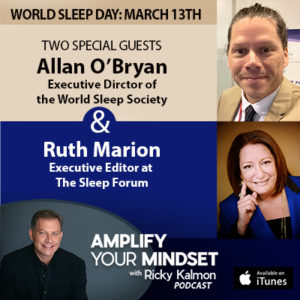 World Sleep Day is an annual event, intended to be a celebration of sleep and a call to action on important issues related to sleep, including medicine, education, social aspects and driving. It is hosted by the World Sleep Society and aims to lessen the burden of sleep problems on society through better prevention and management of sleep disorders.
Allan O'Bryan is the Executive Director of the World Sleep Society, a professional nonprofit association dedicated to advancing sleep medicine and research worldwide.
Described as strategic, innovative, analytical, and solution focused problem solver. He has been involved with the organization since 2007, with developing the awareness and education programs. World Sleep Day public awareness initiative includes a global public campaign with over 300 sleep delegates around the world conducting educational sleep initiatives on World Sleep Day. The World Sleep congress initiative is the bi-annual educational conference of the society that brings together over 4000 sleep professionals from 75+ countries to discuss sleep medicine and research. Additionally, he teaches graduate and undergraduate courses on management, business, and accounting. A graduate of Missouri State University with a masters in accounting, undergraduate degrees in accounting and management, and is a certified public accountant (CPA).
Ruth Marion is Executive Editor at The Sleep Forum – an online resource. Ruth is a Certified Meeting Professional, spent the last twenty three years in hospitality, managing and planning worldwide conferences for multiple trade associations. In 2016, Ruth was approached by The Sleep Forum, a news site all about sleep, to join their team. Ruth, a business development professional with a BBA in Marketing from Pace University, jumped at the opportunity.
Ruth's passion for the topic of sleep was inspired by her daughter who was diagnosed with narcolepsy nine years ago. Ruth has been educating herself on the topic of sleep for many years and has learned even more from living with someone with a sleep disorder like narcolepsy. Having a secret talent (and enjoyment with) writing since a young age, moving into Editor position at The Sleep Forum was a natural for Ruth. Ruth and her team of five people, located throughout the USA, have grown The Sleep Forum into a news site that is noticed on apple news, google news and social media. Ruth is excited to report via a weekend newsletter or podcasting to The Sleep Forum audience of over 80,000 worldwide. Ruth is an enthusiastic supporter of Wake Up Narcolepsy and the work they do raising funds for research and awareness for the disease.
The Sleep Forum
https://thesleepforum.com
World Sleep Day
http://www.worldsleepday.org
World Sleep Society
https://worldsleepsociety.org
Ricky Kalmon – Mindset Expert, Motivational Keynote Speaker & Celebrity Hypnotist
Ricky Kalmon has amazed audiences around the world. Kalmon empowers his audience with simple, but powerful techniques to boost confidence and belief toward their goals and to exceed their own personal and professional expectations.  He has made numerous special guest appearances on ESPN, Hallmark Channel, Fox, FX, TV Guide, and HLN/CNN.  He offers top corporate entertainment with a take-home message.  Kalmon's uniqueness comes from the way he combines music, audience participation, and comedy to create an unforgettable show that is unmatched by anyone, anywhere. It's a show that will keep you on the edge of your seat and take you on a Vacation of the Mind! Some of his corporate clients are AT&T, Disney, Dell, Boeing, GE, Microsoft, and Pepsi.  Kalmon is also regularly invited to perform for professional sports teams, such as the USC Football Team, Cincinnati Bengals, Arizona Diamondbacks, Anaheim Angels, St. Louis Cardinals and New York Yankees.
Mindfulness Motivational Keynote Speaker Ricky Kalmon delivers corporate motivational keynote programs that will change the way you live, work, and think.  His mindset motivational programs are inspirational and offer compelling, applicable tools anyone can use in personal and professional development. By "Unlocking the Power Within™," he reveals how our mindset can be the greatest tool in achieving new heights, reducing stress, increasing productivity and success. Kalmon will show you how to enhance your mindset to repel doubt and ignite your positive intentions. Ricky has broadened the scope of personal self-discovery and has taught thousands of people how to empower themselves and enrich their lives.  Hire Mindset Motivational Keynote Speaker Ricky Kalmon your next sales meeting, conference, and corporate leadership training program.
Benefits of Ricky Kalmon's programs include:
Stress Reduction / Mindfulness
Overcoming Challenges / Adapting to Change
Accountability and Potential
Confidence / Attitude and Belief
Purpose and Prosperity
Comments are closed.