Jeff Hilimire – CEO of Dragon Army, author of The 5-Day Turnaround, co-founder of 48in48, and founder of Ripples of Hope.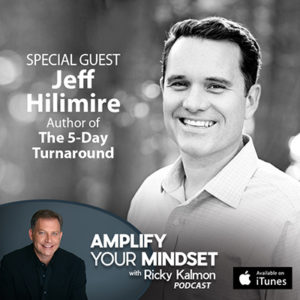 Having the mindset of an entrepreneur can help you be more fulfilled and achieve greater business success. Jeff Hilimire is an accomplished entrepreneur who has launched multiple successful for-profit and nonprofit organizations, and who has successfully sold two companies. His current business, Dragon Army, is one of the fastest-growing digital agencies in the nation. Over the course of 20 years, Jeff has applied his knowledge of entrepreneurship and innovation to help guide leaders from some of the most well-known global brands to mobilize growth using an entrepreneurial mentality. He is also the co-founder of 48in48, a global nonprofit that produces hackathon events to build 48 nonprofit websites in 48 hours.
When Jeff isn't running Dragon Army, mentoring, or volunteering at 48in48, he is working hard as the founder of Ripples of Hope, a collection of for-profit and nonprofit organizations focused on business as a force for good in the world. Jeff is also an accomplished author, and his book, The 5-Day Turnaround, is a reflection of his drive and personal purpose to have an outsized, positive impact on the world.
For more information on Jeff Hilimire, visit: jeffhilimire.com
Dragon Army website:  https://www.dragonarmy.com
Ricky Kalmon – Mindset Expert, Motivational Keynote Speaker & Celebrity Hypnotist
Ricky Kalmon has amazed audiences around the world. Kalmon empowers his audience with simple, but powerful techniques to boost confidence and belief toward their goals and to exceed their own personal and professional expectations.  He has made numerous special guest appearances on ESPN, Hallmark Channel, Fox, FX, TV Guide, and HLN/CNN.  He offers top corporate entertainment with a take-home message.  Kalmon's uniqueness comes from the way he combines music, audience participation, and comedy to create an unforgettable show that is unmatched by anyone, anywhere. It's a show that will keep you on the edge of your seat and take you on a Vacation of the Mind! Some of his corporate clients are AT&T, Disney, Dell, Boeing, GE, Microsoft, and Pepsi.  Kalmon is also regularly invited to perform for professional sports teams, such as the USC Football Team, Cincinnati Bengals, Arizona Diamondbacks, Anaheim Angels, St. Louis Cardinals and New York Yankees.
Ricky Kalmon delivers corporate motivational keynote programs that will change the way you live, work, and think.  His mindset motivational programs are inspirational and offer compelling, applicable tools anyone can use in personal and professional development. By "Unlocking the Power Within™," he reveals how our mindset can be the greatest tool in achieving new heights, reducing stress, increasing productivity and success. Kalmon will show you how to enhance your mindset to repel doubt and ignite your positive intentions. Ricky has broadened the scope of personal self-discovery and has taught thousands of people how to empower themselves and enrich their lives.  Hire Mindset Motivational Keynote Speaker Ricky Kalmon your next sales meeting, conference, and corporate leadership training program.
Benefits of Ricky Kalmon's programs include:
Stress Reduction / Mindfulness
Overcoming Challenges / Adapting to Change
Accountability and Potential
Confidence / Attitude and Belief
Purpose and Prosperity
Comments are closed.