Christine Jones- COO of the Prostate Cancer Foundation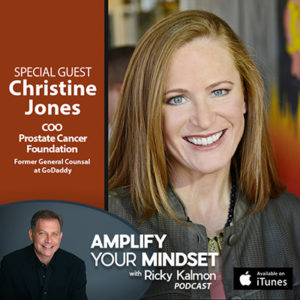 Christine Jones is the former Executive Vice President, General Counsel & Corporate Secretary for Go Daddy Operating Company LLC. As Go Daddy's first lawyer, Christine was an early leader in developing technology policy. She helped drive federal Internet-related legislation, including laws to keep the Web safe from child predators and rogue online pharmacies. Prior to Go Daddy, Christine worked for a Phoenix law firm focusing primarily on commercial litigation. Before entering private practice, she worked for the Los Angeles District Attorney's Office.
A dedicated advocate for education as the great equalizer, Christine has served in many educational contexts. She is an adjunct professor of law at the Sandra Day O'Connor School of law at Arizona State University and has been a guest lecturer at a variety of law schools and graduate business schools around the country, including Stanford University, The University of Virginia, Santa Clara University, and many others. She is a published author and served as Editor-In-Chief of the Whittier Law Review. She also served as CEO of Great Hearts Academies, the largest provider of K-12 classical, liberal arts education in the nation.
A serial entrepreneur, Christine has started numerous ventures that continue to operate today including a venture capital firm, an enterprise software company, a music management business, and a non-profit, social welfare organization.  In addition to running for public office twice, she is active in Arizona politics.
For more information about the Prostate Cancer Foundation, visit https://www.pcf.org
Ricky Kalmon – Mindset Expert, Motivational Speaker & Celebrity Hypnotist
Ricky Kalmon has amazed audiences around the world. Kalmon empowers his audience with simple, but powerful techniques to boost confidence and belief toward their goals and to exceed their own personal and professional expectations.  He has made numerous special guest appearances on ESPN, Hallmark Channel, Fox, FX, TV Guide, and HLN/CNN.  He offers top corporate entertainment with a take-home message.  Kalmon's uniqueness comes from the way he combines music, audience participation, and comedy to create an unforgettable show that is unmatched by anyone, anywhere. It's a show that will keep you on the edge of your seat and take you on a Vacation of the Mind! Some of his corporate clients are AT&T, Disney, Dell, Boeing, GE, Microsoft, and Pepsi.  Kalmon is also regularly invited to perform for professional sports teams, such as the USC Football Team, Cincinnati Bengals, Arizona Diamondbacks, Anaheim Angels, St. Louis Cardinals and New York Yankees.
Ricky Kalmon delivers corporate motivational keynote programs that will change the way you live, work, and think.  His mindset motivational programs are inspirational and offer compelling, applicable tools anyone can use in personal and professional development. By "Unlocking the Power Within™," he reveals how the subconscious mind can be the greatest tool in achieving new heights, reducing stress, increasing productivity and success. Kalmon will show you how to enhance your mindset to repel doubt and ignite your positive intentions. Ricky has broadened the scope of personal self-discovery and has taught thousands of people how to empower themselves and enrich their lives.  Hire Ricky Kalmon for corporate entertainment and his mindset motivational keynote programs.
Comments are closed.