Dr. Rick Goodman – Leadership and Engagement Expert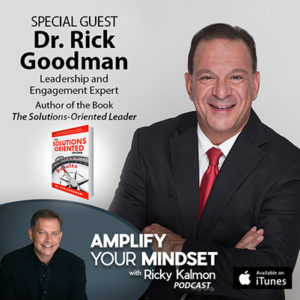 Dr. Rick Goodman, CSP, is renowned as one of the most sought-after leadership and engagement experts in the world today. His keynote presentations and breakout sessions have produced transformational results leading to engaged employees, increased productivity and, most importantly, HIGHER PROFITS.
Dr. Rick has the distinction of delivering over 1,000 presentations in all 50 states and 23 countries. He earned the Certified Speaking Professional (CSP) designation which is the speaker profession's international measure of speaking experience and skill. Fewer than one percent of all professional speakers worldwide hold this designation.
The Author
In addition to his 30-year speaking career, Dr. Rick is the author of three books: "Living a Championship Life – A Game Plan for Success," a book combining his success philosophy with stories compiled during his tenure as one of the team physicians for the Super Bowl champion St. Louis Rams and the St. Louis Ambush professional indoor soccer team; "My Team Sucked: Ten Rules That Turned Them Into Rock Stars A Small Book with Big Solutions" on leadership, engagement and business growth; and his latest book "The Solutions-Oriented Leader: Your Comprehensive Guide to Achieve World-Class Results
Dr. Rick's writing style integrates real-life stories with innovative and engaging solutions to real-world challenges. His articles are a favorite with national publications and corporate/ association newsletters. His books, CDs, DVDs, online learning and virtual presentations are all designed for achievers who want to grow and implement a system that fosters great leadership!
The Entrepreneur
Dr. Rick is a successful entrepreneur who walks his talk and shares his winning philosophy with his audiences. 1988, he created and sold one of the largest medical practices in Missouri. That same year, Dr. Rick founded a new enterprise that is still active today. His goal is to introduce his leadership and team building formulas and systems into 10,000 businesses worldwide.
In March 2000, Dr. Rick became Vice President of Neurology Associates Group, and, in just three years, grew the franchise from two facilities to 13, with more than 100 employees and revenues in the millions. Then, in 2002, Dr. Rick also founded Advantage Continuing Education Seminars (ACES), which has become one of the fastest-growing continuing education companies in its field, providing programs in seven distinct categories, including legal, accounting, human resources, medical, construction, sales and marketing, and customer service.
Ricky Kalmon – Mindset Expert, Motivational Speaker & Celebrity Hypnotist
Ricky Kalmon has amazed audiences around the world. Kalmon empowers his audience with simple, but powerful techniques to boost confidence and belief toward their goals and to exceed their own personal and professional expectations.  He has made numerous special guest appearances on ESPN, Hallmark Channel, Fox, FX, TV Guide, and HLN/CNN.  He offers top corporate entertainment with a take-home message.  Kalmon's uniqueness comes from the way he combines music, audience participation, and comedy to create an unforgettable show that is unmatched by anyone, anywhere. It's a show that will keep you on the edge of your seat and take you on a Vacation of the Mind! Some of his corporate clients are AT&T, Disney, Dell, Boeing, GE, Microsoft, and Pepsi.  Kalmon is also regularly invited to perform for professional sports teams, such as the USC Football Team, Cincinnati Bengals, Arizona Diamondbacks, Anaheim Angels, St. Louis Cardinals and New York Yankees.
Ricky Kalmon delivers corporate motivational keynote programs that will change the way you live, work, and think.  His mindset and mindfulness motivational programs are inspirational and offer compelling, applicable tools anyone can use in personal and professional development. By "Unlocking the Power Within™," he reveals how the subconscious mind can be the greatest tool in achieving new heights, reducing stress, increasing productivity and success. Kalmon will show you how to enhance your mindset to repel doubt and ignite your positive intentions. Ricky has broadened the scope of personal self-discovery and has taught thousands of people how to empower themselves and enrich their lives.
Comments are closed.