Phil Rosenthal Creator & Host Somebody Feed Phil on Netflix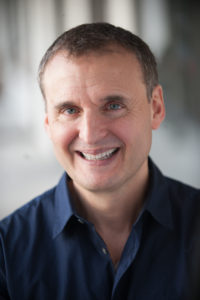 Phil Rosenthal is the creator and host of "Somebody Feed Phil," an unscripted documentary series on Netflix, which combines his love of food and travel with his unique brand of humor.
Rosenthal was born in Queens, New York and moved with his parents and brother to New City, New York in Rockland County, where he was raised. After graduating from Hofstra University on Long Island, where he majored in theater, he embarked on a career as an actor, writer and director in New York City. In 1989, he relocated to Los Angeles.
Rosenthal's early writing credits include the series "Down the Shore" and "Coach." In 1995, Rosenthal created the hit CBS comedy, "Everybody Loves Raymond," which premiered in 1996. He was the Showrunner/Executive Producer for all nine years of the show's very successful run, which ended in 2005.
During its original run, "Everybody Loves Raymond" was nominated for over 70 Emmy awards, and won 15 awards, including two for Best Comedy Series in 2003 and 2005. Rosenthal won the 2002 Writers Guild Award for Excellence in Television Writing for his "Everybody Loves Raymond" script, "Italy."
Rosenthal co-wrote "America: A Tribute to Heroes," the 9/11 telethon which aired on all four networks in September 2001, for which he won a Peabody Award and an Emmy nomination for Outstanding Writing.
Rosenthal is also an author, having penned a book on the art of comedy and the making of a sitcom classic. "You're Lucky You're Funny: How Life Becomes a Sitcom" was published in 2006.
In April 2011, Rosenthal wrote, directed and starred in his first feature film for Sony Pictures. "Exporting Raymond," the true story about the attempt to turn "Everybody Loves Raymond" into a Russian sitcom, was met with critical acclaim.
Rosenthal's first travel food series, "I'll Have What Phil's Having," premiered on PBS in fall 2015 and received two Taste Awards as well as the winner of the 2016 James Beard Award for Best Television Program, on Location.
Ricky Kalmon – Mindset Expert, Motivational Speaker & Celebrity Hypnotist
Ricky Kalmon has amazed audiences around the world. Kalmon empowers his audience with simple, but powerful techniques to boost confidence and belief toward their goals and to exceed their own personal and professional expectations.  He has made numerous special guest appearances on ESPN, Hallmark Channel, Fox, FX, TV Guide, and HLN/CNN.  He offers top corporate entertainment with a take-home message.  Kalmon's uniqueness comes from the way he combines music, audience participation, and comedy to create an unforgettable show that is unmatched by anyone, anywhere. It's a show that will keep you on the edge of your seat and take you on a Vacation of the Mind! Some of his corporate clients are AT&T, Disney, Dell, Boeing, GE, Microsoft, and Pepsi.  Kalmon is also regularly invited to perform for professional sports teams, such as the USC Football Team, Cincinnati Bengals, Arizona Diamondbacks, Anaheim Angels, St. Louis Cardinals and New York Yankees.
Ricky Kalmon delivers corporate motivational keynote programs that will change the way you live, work, and think.  His mindset motivational programs are inspirational and offer compelling, applicable tools anyone can use in personal and professional development. By "Unlocking the Power Within™," he reveals how the subconscious mind can be the greatest tool in achieving new heights, reducing stress, increasing productivity and success. Kalmon will show you how to enhance your mindset to repel doubt and ignite your positive intentions. Ricky has broadened the scope of personal self-discovery and has taught thousands of people how to empower themselves and enrich their lives.
Comments are closed.