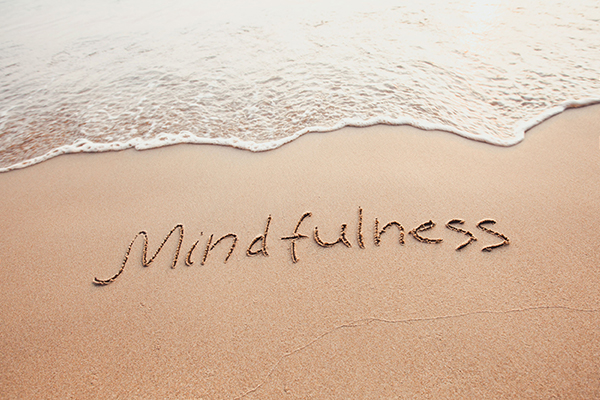 Six Things You Can Do to Reduce Anxiety and Stress during the COVID-19 Pandemic.
The coronavirus pandemic has caused uncertainty and tremendous stress around the world. Coping with the changes to our personal and professional lives has become the number one topic on social media and news outlets. Adapting to change is an understatement these days, and many people are experiencing major changes to the way they work and learn, along with lifestyle changes that limit socialization, entertainment, and other areas of our lives. As a result, many people are finding themselves overwhelmed from having so much more on their plate, which usually leads to stress.
The good news is that while we can't always control the world around us, we can control our response to it. Here are six things you can do to reduce anxiety and stress.
Redirect by Breathing  To make sure you stay on track, focused, and in the right direction, set aside time to be Mindful. It's as simple as breathing. Schedule two minutes on your calendar today—better yet, every day—to clear, calm, and reset your mindset. After reading this article, take two minutes and just clear your mind. Tend to it, become aware of it. When you do, you'll unleash the amazing potential that only your mindset can bring. Take two minutes and just breathe. It will immediately work to redirect your thoughts and reduce your stress and anxiety.
Set a Routine for Meditation  Rechanneling your thoughts is a great way to keep anxiety at bay. Meditation is an easy, effective exercise that will help you clear your mind and maintain your focus. Not only does it benefit your physical and mental health, it is also a calming process that can help you redirect your thoughts and set affirmations to frame and reinforce a positive state of mind.
Optimistic Belief  Change can open the door to fear and uncertainty. As a result, we may doubt ourselves and lose confidence in ourselves and the world around us. When doubt seeps in, we put less belief and effort into our endeavors. Whenever you begin to feel any doubt, change your thought processes. Use positive affirmations to state the outcomes you desire and repeat them throughout the day. Use this time to check for negativity in your vocabulary and eliminate words like can't, won't, no, and not. For example, to reinforce optimistic belief, instead of saying "It's not possible," say "It's possible." You'll find the words you use, either verbally or in your thoughts, guide your attitude and your outcomes.
Healthy Eating  Working from home and social distancing can change our eating habits. This is a good time to introduce healthy foods and meals that provide nutrition and promote your overall health and wellness. Create balance and strengthen your body and immune system by making sure you eat regular, balanced meals every day. Avoid getting hungry because it will increase anxiety and boost your stress levels. Also avoid snacks and sweets that hold little to no nutritional value because they can affect your energy levels and affect your ability to focus. Make eating fun by trying a new food or recipe—as a bonus, you just might find that cooking is a great distraction and stress reducer.
Stay Focused on You  In times of uncertainty, it is easy to get distracted and lose sight of our priorities. Adapting to new schedules, environments, and ways of life can change our focus, especially as we become tuned in to the latest updates and news. Maintain your focus on yourself and your priorities by creating and sticking to a schedule that supports your ability to accomplish what you need to. Focus on your priorities and your health, happiness, and wellbeing, and you will be confident that you are doing the best you can under any circumstances, without being influenced or distracted by other factors over which you have no control.
Reach Out to a Client.  If you are working from home or experiencing a reduction in hours or change in employment, this is a very appropriate time to renew and maintain connections. Keep it simple and avoid "selling." This is a personal gesture, letting them know that you care and are thinking about them. You can send a short personal note, card, email or text message. It's a great way to connect with people on a personal level and let others know that you appreciate them and they matter to you.
By focusing on the positive and maintaining an optimistic and healthy lifestyle, you'll be less overwhelmed and better able to cope with change and the anxiety it brings. You'll reduce your stress and increase your energy levels, wellbeing, and focus, keeping you on track during times of change and uncertainty.
—
About Ricky Kalmon –
RICKY KALMON is a Mindset Expert, Motivational Speaker, and Celebrity Hypnotist that delivers high-energy and motivational keynote programs. His programs are inspirational and offer compelling, applicable tools anyone can use in personal and professional development. Kalmon reveals how our mindset can be the greatest tool in achieving new heights, reducing stress, and increasing productivity and potential.
Ricky Kalmon's mindset message and techniques will change the way you live, work, and think. His motivational programs are inspirational and offer compelling, applicable tools anyone can use for personal and professional development. Kalmon works with Fortune 500 companies' sales teams, leaders, and executives, teaching them how to "Unlock the Power Within"℠.
Kalmon will show you and your team how to enhance your mindset to eliminate doubt and ignite your positive intentions. Ricky's clients include LexisNexis, AT&T, Microsoft, BASF, Dell, Philips Healthcare, Boeing, and Disney, USC Football Team, Cincinnati Bengals, Arizona Diamondbacks, Anaheim Angels, St. Louis Cardinals, and the New York Yankees, just to name a few. His TV credits include, ESPN, Hallmark Channel, Fox, FX, TV Guide, and HLN/CNN.
Ricky can be heard weekly on his podcast Amplify Your Mindset Each episode of Amplify Your Mindset features business leaders, motivators, and incredible individuals that share how mindset has contributed to their success.  Ricky is fascinated how mindset has helped successful people overcome challenges, make transitions, remove doubt and fear as well as push themselves to exceed their own expectation. People use words like gratitude, happiness, success, and appreciation in everyday life, but do we really stop and put meaning behind these words?  Ricky's podcast guests share experiences and provide inspirational testimonials on the power of a positive mindset. Available on iTunes, GooglePlay, Spotify, and iHeartRadio.
Benefits of Ricky Kalmon's programs include:
Stress Reduction / Mindfulness
Overcoming Challenges / Adapting to Change
Accountability and Potential
Confidence / Attitude and Belief
Purpose and Prosperity
Book Ricky Kalmon to speak to your organization or team, contact william@rickykalmon.com or call 770-44-8820
Sign up for Ricky's free motivational: https://rickykalmon.com/signup/
Comments are closed.